Coping with an enormous volume of content produced daily on multiple platforms, while maintaining large archives of multimedia assets such as texts, videos, or design files — no print or digital content production would be possible these days without an automated convergent editorial workflow in place. If you've been involved in content production for a publishing or a corporate business for quite some time, you must have definitely experienced some of these issues at work.
The good news is — a reliable editorial workflow system can tackle them all.
Communication and collaboration issue
If your content production team consists of more than two people, if they are in different locations or even time zones, if they work on multiple products at a time performing different tasks such as writing, editing, translating, uploading the copy, finding images, designing layouts, publishing to print or digital — a lack of a single editorial workflow might turn your collaboration into a nightmare resulting in re-doing the same work multiple times and missing deadlines. So what's the solution?
A big multinational Madrid-based children's book publisher Grupo SM, for example, decided to invest in our multichannel publishing solution WoodWing Studio (previously known as Enterprise) to eliminate miscommunication and streamline their production back in 2014. The main problem was managing the collaboration of about 3,000 brands between around 1,000 internal and 3,000 external staff spread across Spain and eight LATAM countries. Due to the specifics and complexity of the textbooks production, the publisher had to customize and adapt the default print workflow, as well as integrate the software with some external systems (such as SAP, Citrix etc.) for better flexibility.
The ease of use as well as the high level of openness and flexibility enabled us to deploy the system in nine countries in less than a year, including the training of users.

Oscar Howell, then-CTO and Director of Global Technology Center at Grupo SM
Grupo SM have implemented an efficient content creation process for the internal employees via an editorial workflow solution, WoodWing Studio (formerly also known as Content Station), while external users work with the plugins for WoodWing Studio that enable integration with Adobe's InDesign and InCopy. Collaboration and communication is much easier due to WoodWing's Studio native features of sending and receiving messages within the content workflow system, assigning and reviewing tasks, adding annotations to dedicated story folders called Dossiers and attaching sticky notes to design layouts. Now the company carries out production of 600 textbooks at a time — all in different stages — cost- and time-efficiently, with minimum disruptions.
Automation and scalability issue
For the sake of speed and efficiency, your ideal content production workflow must be fully automated, with structured and searchable metadata (such as file types, dates, statuses etc.), with a clear and intuitive interface as well as a possibility to scale up in the future. But which tasks exactly can an editorial workflow system automate and how?
Take the example of a leading Peruvian media company El Comercio, who started introducing an automated print and digital workflow, using WoodWing Studio, for their newspapers and magazines back in 2013. The major benefit they experienced was email-free communication, as all the files were sent and reviewed by both an in-house editorial team and freelancers right in Studio, with notifications popping up in the app's internal inbox. Color filters showed editors the statuses and current progress of stories, while the creative team enjoyed pre-designed InDesign layouts for any channel with auto-filling and image prioritization options.
In order to optimize their visual content workflow, El Comercio implemented integrations with the image retouching software Amendo by OneVision, as well as with web CMS Drupal — available to Studio users due to the intelligent automation app called Smart Mover. Due to scalability of their editorial workflow solution, the publisher was able to produce 550 pages of content daily, while the employee training took just 10 days.
With its true multichannel approach, the implementation of WoodWing Studio at Grupo El Comercio is a lighthouse project in the global newspaper industry.

Jorge Cieza de León, Corporate Manager at Hexas, technical implementation partner of El Comercio
Issue of external digital asset libraries
Whether your product is print or digital, you always need some multimedia assets such as images, photos, audio recordings or videos to make your story more engaging and compelling. With one single ecosystem to manage content production, life becomes much easier. You need the possibility to store, add metadata, edit and easily upload your files directly into your visual editor. And of course, this digital archive must be fully integrated with your primary content production system. It has to be secure, scalable (ideally — unlimited), with smart meta-tagging functionality, and more — yet not overpriced to ensure the highest ROI. How do big content production companies solve this problem? They integrate a Digital Asset Management system into their entire content workflow.

Look at the case of Aller Media, a leading media company that owns 90 media titles in four Scandinavian countries. Their challenge was to speed up the production of print and tablet lifestyles magazines whose content was mainly high-res photography. In 2016, they chose Studio supported by our digital asset management system WoodWing Assets (former Elvis DAM) to create their entire cloud-based environment for 1,500 users to produce content efficiently. Learn more about how they did it.
The Digital Asset Management integration was important for us. One of the biggest benefits we had from the start was to put everything into the cloud, so the whole workflow is unified across all four countries where we operate.

Lars Kroløkke, Project Manager, Nordics, Aller Media
Page planning and ad management issue
Whether your product is a print publication or an iPad/iPhone magazine app with a rigid page structure, a possibility to plan and review the layouts of all articles and advertisements is a total must for your editorial workflow system. Page planning tools allow executive editors to check the current status of all copy and design works, plus ensure the issue's final version is production-ready. Meanwhile, sales managers can check the availability of advertisement space, and, ideally, place ads right into the respective pages' layout.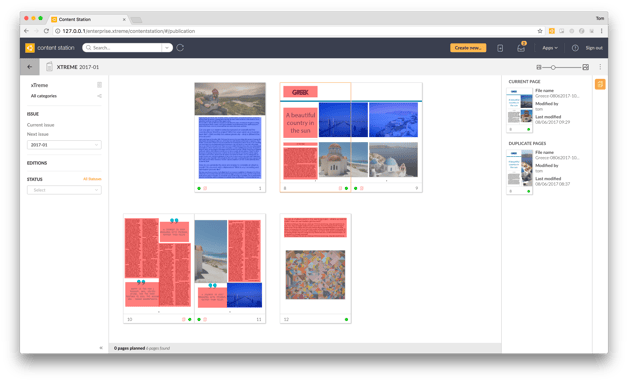 Some content workflow systems, like Studio, have an embedded Publication Overview module in place that offers real-time granular insights into the publication's production progress (see the picture above). For advanced page planning functionality or, for example, integrations with third-party advertising booking systems, editorial teams may need to implement some external solutions like JournalDesigner by dataplan, or TIMONE by Tell.
Yaffa Media, one of Australia's oldest and largest independent media houses, chose Studio integrated with Dataplan's JournalDesigner plug-in for page overview and AdBooking system Carma Cloud for ad planning to create their own customized ecosystem for better business performance.
The greatest change has been streamlining the workflow and reducing production time from seven weeks to three, resulting in more time to sell.

Matthew Gunn, Production Director at Yaffa Media
Content repurposing issue
If you publish the same article on both print and digital platforms or republish the same content for multiple brands on one platform, automated content repurposing is critical. Free or cheap web-based content management systems like WordPress or Drupal don't offer an integration with sophisticated tools for print publishing by default, while bulky and slow prepress software units are not designed for swift and nimble digital content production. So here comes the problem of having to manually 'copy-and-paste, which most likely results in numerous human errors, and, again — a waste of time and money.
Before implementing a content workflow system in 2007, the editorial team of a leading Russian newspaper publisher Rossiyskaya Gazeta had to repurpose content for eight different brands manually. This led to many layout errors, which meant designs had to be recreated multiple times. Only after the introduction of automated content repurposing for a number of their publications using Studio, the formatting of layouts was not affected.
Regarding the operational efficiency and overall user experience, it's much easier for an editor to use a single automated workflow system rather than switch focus between two or three tools.

Vsevolod Pulya, then-Managing Editor of RBTH, one of the publications by Rossiyskaya Gazeta during 2007-2016
Good news: WoodWing Studio is here
Creating amazing content in the most efficient way is essential to compete in the online world. Allow your team to go from idea to publication in the fastest possible time, minimizing frustrations and streamlining the whole process from beginning to end.
WoodWing Studio benefits an array of organizations and teams. If you'd like to learn more about our multichannel editorial workflow system, please request a demo or send us your questions.