The challenge for supermarket marketers
The supermarket sector is characterized by fast-moving consumer goods, time-sensitive offers, and high competition. Whilst many processes in the industry have benefited from the strategic application of technology, one area lagging behind in digital transformation is content creation.
Thanks to the explosion of platforms for marketing and e-commerce in the past decade, supermarket teams need to create and process more creative content and assets than ever before. This represents a considerable challenge, exacerbated by siloed teams, inefficient processes, and sub-par digital storage solutions.
From the point-of-sale signage, weekly brochures, and flyers, to website and in-app images, supermarkets need to produce high-volume, time-sensitive materials, with constantly changing product images, pricing, and descriptions.
However, many supermarkets fail to recognize - or prioritize - the importance of content creation in their strategy. They continue to use outdated manual processes that cost time and waste money.
This means, for forward-thinking retailers, there is an opportunity to gain a competitive advantage by introducing more efficient workflows and processes. But where can supermarkets find examples of best practice?
What supermarkets can learn from publishers
Magazine and newspaper publishers have content creation at the heart of their business model, whether that's in print or, increasingly, online and in-app. Regardless of the publishing channel, they have always had a strong focus on creating tools and processes that make content production and publication as seamless as possible.
Supermarkets increasingly resemble publishers as they attempt to satisfy growing customer demands - and differentiate themselves - across print, digital and social media. So it makes sense for supermarkets to adopt best practices from this industry, which has already paved the way in terms of process and efficiency.
At WoodWing, we have a name for this approach. We call this "Content Orchestration", where people and tools work seamlessly together to plan, create, manage, and distribute content. With this approach, workflows are clearly defined and robust, and creation and management tools are seamlessly integrated.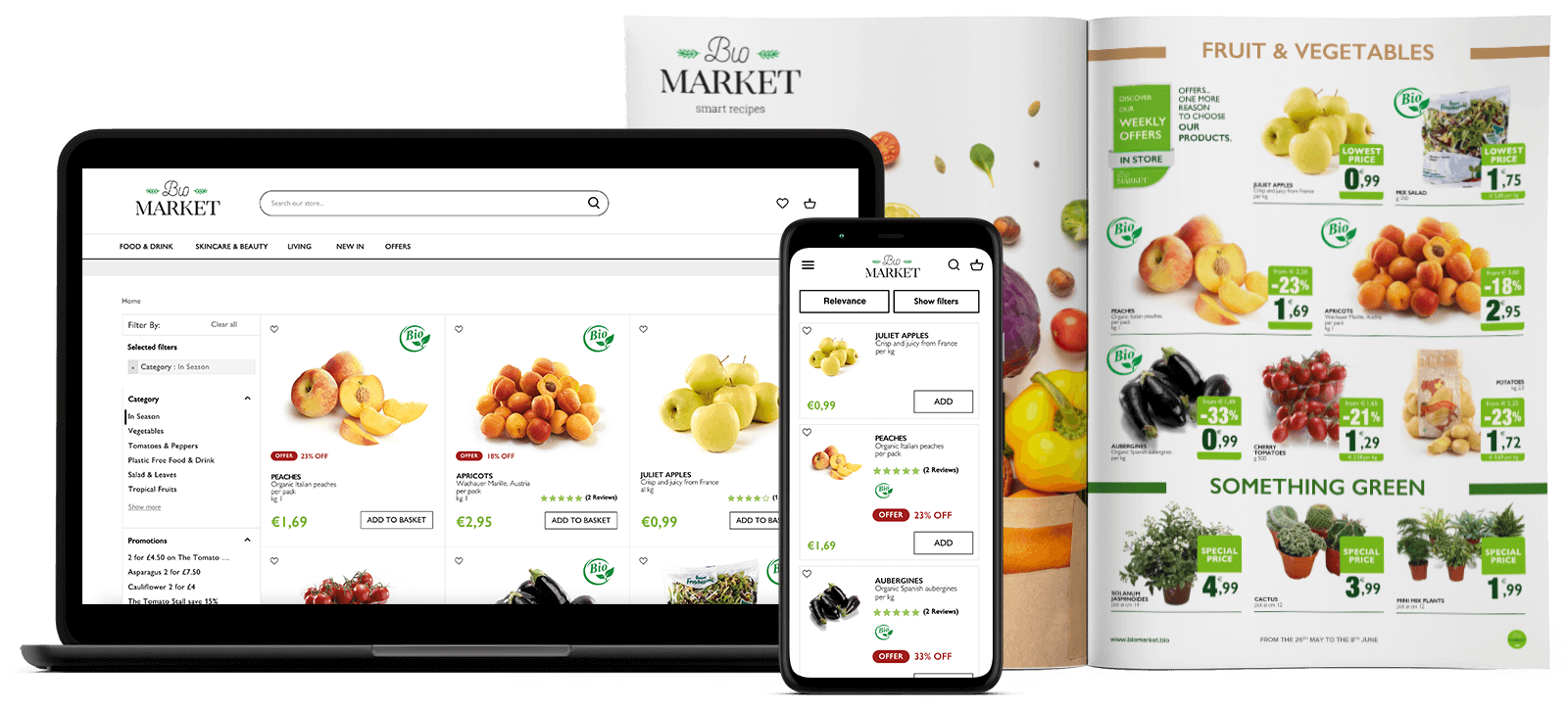 An example of supermarket content orchestration
Every supermarket is different and your content processes will be too. So there is no one-size-fits-all approach to content orchestration. It's more of a philosophy than a defined process. It's about committing to the strategic management of content processes and workflows to cut costs and increase efficiency.
One small example of this could be integrating your product database (like a PIM) with your media library.
This enables all product photos to be automatically synced with product information like prices and availability. This makes it much easier and quicker to create marketing collateral as all relevant information and assets exist in one place and can be automatically pulled into catalog designs or webpages.
It also reduces the time and effort associated with duplicated data entry, speeding up time to market, and reducing the risk of human error and inconsistencies between systems. And if, as often happens with FMCG, information changes, you only need to update it in one place but product information is updated globally.
With supermarkets sometimes handling millions of product assets, this alone represents a significant time and cost-saving. And this is just one small example of how integrating people, processes and technology can speed up and streamline your content production.
Four benefits of content orchestration for supermarkets
BENEFIT 1
Eradicate process inefficiencies for time-to-market
As the example above demonstrates, manual workflows can create time-consuming tasks that slow down your staff and your systems. Many of these processes can be easily automated - and software integrated - to eradicate bottlenecks and increase efficiency. This means you can work smarter and get product information to market faster, across multiple channels, with less effort.
Consider product imagery. Supermarkets receive, process, and serve up millions of product images a year. A system that allows suppliers to upload their own images, takes those images through an automated QA process, and deploys them directly to online and in-app storefronts represents a huge time-saving for your e-commerce team. Whilst easy access to those images speeds up print production for catalogs, POS, and more.
After embracing content orchestration and digital asset management, one national supermarket chain - with 71 stores and a large e-commerce platform - achieved a staggering 97% reduction in time locating product images – from 68 hours to 2 hours per campaign - as well as a 20% reduction in costs arising from images being misplaced and recommissioned.
BENEFIT 2
Destroy content silos and increase ROI
Content orchestration creates a single, shared environment for content creation. By providing a single-source-of-truth for product assets and data, and creating a collaborative environment where all stakeholders can work together, you can eradicate unproductive work silos.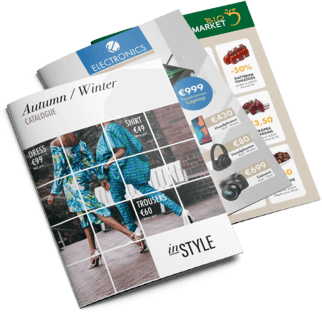 If this sounds like your organization, imagine a single system when internal and external collaborators can see production schedules and project progress, effortlessly locate up-to-date product information and approved assets, provide feedback on copy, work together on InDesign layouts, then publish content effortlessly to multiple digital and traditional media… That's the reality for supermarkets that have embraced content orchestration.
This increases transparency, improves collaboration, streamlines processes, and adds up to considerable productivity gains. Not only that, it improves ROI on existing assets by making them available for reuse across different teams, minimizing the risk of duplicated effort or recommissioned content. Which all adds up to faster time to market, lower costs, and competitive advantage.
'Tracking down assets, asking which is the most up-to-date version, having to call the agency, emailing files. It is death by a thousand cuts. Saving five seconds here, five seconds there seems small. But it adds up to days of extra time each month.'

Owen Greenwell, Content Director at Medium Rare agency, publishing expert, and advocate of content orchestration.
Before WoodWing, we had manual processes for catalog production and assets weren't well managed. Everything we needed, we had to ask the agency for. I knew that represented an opportunity for improvement. Now we have WoodWing Assets, everyone knows where to get the assets they need and they know they're the correct version. This is especially important with colleagues working remotely at the moment.

Santiago Passeron, Marketing Director, la Anonima, one of Argentina's largest supermarket chains and happy WoodWing customer (read the full story HERE.)
BENEFIT 3
Impress customers and increase conversions
Modern customers want a consistent brand experience across multiple channels, as well as personality and personalization. Think localized catalogs, online ordering, social media, CRM...
Meanwhile, enhanced digital assets, like product videos and 360 rotating product shots can hugely increase conversion rates for e-retailers, as can retargeting ads based on browsing history and abandoned carts.
So you need to ensure your systems can meet these growing customer expectations and the burgeoning assets needed to support them - often comprising millions of images and videos.
By reducing repetitive manual processes and automating production, content orchestration gives your team more time to do this. It also makes it easier to scale up your business processes without needing to scale up your staff resources.
Put simply, using robots to do tedious tasks frees up your staff for the work robots can't do, like devising creative campaigns that increase brand awareness, conversion rates, and sales.
The goal was to translate everything that we have on the shelf into our online pharmacy. This process needed actioning with minimal effort, without the need for double and even triple data entry processes being inputted into multiple systems. The long-term goal is to use a lot of that data and imagery in other assets, especially to streamline the business processes and workflows.

Sally Parker, COO, Wizard Pharmacy (read the full story HERE.)
BENEFIT 4
Improve collaboration with agencies
Many supermarkets lack the in-house resources to manage their current manual content production. So they outsource complicated tasks and processes to agencies. A classic case of 'out of sight, out of mind'. But this sticking-plaster approach means inefficient processes can continue, often unchecked, resulting in an inefficient use of agency time and higher fees for you.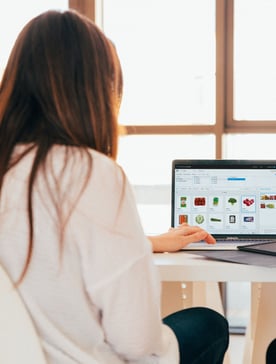 By integrating, automating, and streamlining processes using technology, many supermarkets find they can bring control back in-house, since fewer staff are needed to deliver the same - or better - results.
They still work with agencies to deliver creative services, but no longer pay agencies to make their content chaos disappear. Owning your content production system also means you can work seamlessly with multiple agencies in a single platform and can change agencies with minimal disruption if needed.
Rather than simply replicate their existing processes, we thought "wouldn't it be better for Hoogvliet to have a platform where they can create layouts, work on content and gather feedback before sending it to their agency to finalize design". That idea really appealed to them and - knowing the functionality available through WoodWing Assets and WoodWing Studio - that's what we were able to deliver.

Joris de Jong, Workflow Consultant at Graphit, who supported Dutch supermarket chain Hoogvliet to embrace content orchestration using WoodWing solutions (read the full story HERE.)
Being able to bring in external production partners is very important. As is the ability to change production partners. There's no problem getting the assets back or getting past partners to delete assets. We control all the data, all the images, all the layouts, all the PDFs. We can end a contract and engage easily with someone new.

Samuli Jokipaltio, Co-Owner at Smartium, who supported Finnish supermarket giant S-Group to streamline their content processes with WoodWing solutions (read the full story HERE.)
More and more supermarkets are starting to recognize the strategic value of improving content processes. Content orchestration has the potential to deliver significant productivity gains and cost savings, whilst also increasing and improving marketing outputs in this fast-moving and highly competitive sector.
If you're interested in learning more about using WoodWing solutions for content orchestration in your supermarket, contact us.