If you're a supermarket chain, e-retailer, or online marketplace, you might be wondering what's the difference between PIM and DAM, and which do we need? They're actually very different - but wholly complementary - products that can make e-commerce, marketing, and sales run much more efficiently.
Here's everything you need to know about PIM, DAM, and PIM-DAM integration.
What is a PIM system?
A Product Information Management (PIM) system is a sophisticated database where retailers manage all of their product information.
They're a master product list containing a comprehensive, real-time inventory of all of your products and the information that goes with them. Think price, product description, supplier details, availability, materials, ingredients, similar products, etc.
PIMs replace non-specialist software that retailers sometimes use to store their product information, like generic databases or spreadsheets. They provide more retail-specific functionality and advanced features to organize, process, and serve up your product information where it's needed - such as your website, app, sales systems, and third-party sites.
PIMs are popular because they save time and reduce risk by:
Centralizing all product data in a single source - eradicating duplication, double data entry, and inconsistencies.
Integrating with other software - allowing retailers to automate previously manual processes.
Feeding other systems with data - so that changes in the PIM are automatically reflected elsewhere.
What is a DAM system?
A Digital Asset Management (DAM) system is a single central place to store digital assets like photos, video and audio files, logos, artwork, and more.
But it does far more than just store files securely - a DAM makes your assets much easier to find, share and use.
Take photos for example. When you upload photos to your DAM, it can automatically detect faces, identify colors, even recognize whether the mood is happy, sad, or celebratory. It adds that information to the file as metadata, along with any other stats you ask it to store.
This makes it much easier to find the perfect asset for your artwork because you can simply search 'woman' 'happy' 'red' and it will find all photos that fit those criteria.
When you find an image you want to use, you can select the use type - publication, web, etc - and the DAM will serve up the image in the correct resolution, color profile, and file format for your needs.
DAM also saves time and makes collaborating easier because you can share assets in the system without having to download them and send them via email or DropBox. You can also integrate DAM with other software to easily access your assets in other programs - like Adobe Creative Suite.
For retailers, a DAM is somewhere to store product images, videos, 360-degree spins, supplier logos – all those assets that help drive conversion and sales - as well as marketing files like catalog and POS artwork, campaign materials, and graphics for digital ads, website banners, and more.
Although it wasn't designed specifically for the sector, there is a strong use case - and business case - for DAM in retail. DAM can:
Significantly reduce the time wasted, searching for assets in multiple, disorganized locations.
Semi-automate catalog production.
Automatically serve images to e-commerce sites and shopping apps.
Receive and process assets uploaded by suppliers in their millions.
The difference between DAM and PIM
DAM and PIM are both databases that let businesses store, search and serve up information. They're often confused because both are commonly used by retailers to manage and publish product information. The main difference is that a PIM usually contains text and data – such as prices, product descriptions, availability – while a DAM contains more visual elements - like images, video, and artwork.
| | |
| --- | --- |
| PIM | DAM |
| Specifically designed to meet the needs of retailers and e-commerce | Beneficial in any sector that needs a strategic way to manage their digital assets |
| Usually contains text and data fields | Usually contains files and assets |
| Can automatically populate web pages and templates with text and information | Can automatically populate web pages and templates with images |
Both
A single place to store all information – reducing duplicated data entry, effort, and risk of errors
Can be integrated with other software to automate processes and improve efficiency
Can be integrated with other software to automate processes and improve efficiency
Improve consistency across customer touchpoints online, in-app, and in print
Although the conversation around PIM and DAM often frames them as rivals - 'PIM vs DAM: which is best?' - they're actually highly complementary. Most retailers will benefit from implementing both. The question is when and how.
As software grows ever more sophisticated, boundaries between PIM and DAM begin to blur. You can now buy PIMs with DAM functionality, DAMs with PIM functionality, and all-in-one software that promises to do everything an e-commerce business needs (and more besides).
However, all-in-one packages sometimes deliver a diluted version of both products. An alternative option is to create a best-of-breed solution, integrating separate PIM and DAM software, to benefit from the full functionality of both.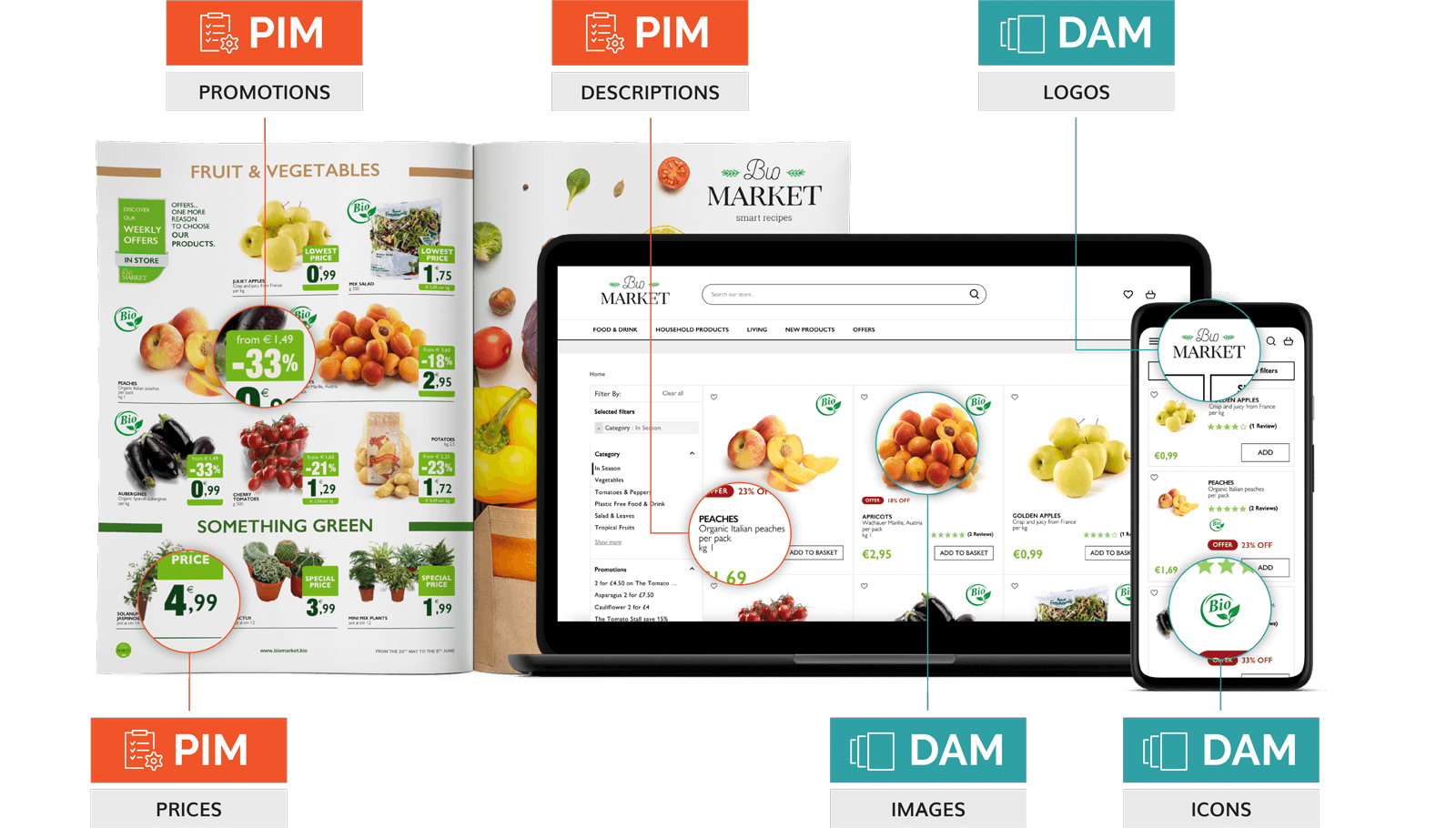 Benefits of PIM-DAM integration
PIM and DAM work hand-in-hand to solve one of the major operational headaches for retailers - how to receive, process, manage and publish information relating to millions of products.
Nowhere is this more evident - or PIM-DAM integration more valuable - than in the marketing and e-commerce teams of major retailers.
Retailer marketing teams are at the heart of the modern customer experience. They help shoppers discover products and make purchases via catalogs, campaigns, online and in-app content, POS, CRM, social media, advertising… the list goes on.
With so many channels - and an ever-changing array of FMCGs to promote - marketing and e-commerce teams are increasingly overstretched.
It isn't easy to manage workflows, images, and data relating to 100,000s of products in such a fast-moving and time-sensitive environment. But it is essential. Because ineffective processes reduce productivity, increase time-to-market and undermine the bottom line.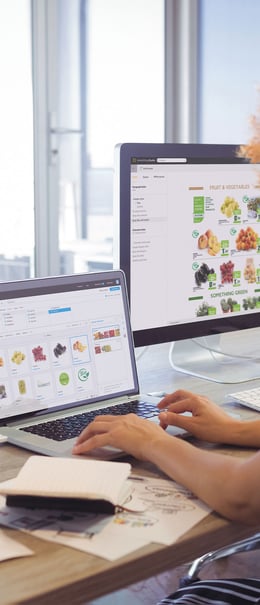 Here, PIM and DAM can be integrated to:
Automatically receive and approve product information and assets from different sources.
Marry product imagery and video with up-to-date product descriptions and prices.
Fully automate web page production and app content.
Automatically populate catalog templates in InDesign and other programs.
Which makes it quicker, easier, and more cost-effective to deliver consistent, media-rich experiences across a burgeoning range of channels.
Even if your business isn't ready for this level of automation yet, PIM-DAM integration can still deliver significant cost savings and productivity gains by:
Providing all collaborators with immediate access to approved, up-to-date information and assets from a single source of truth.
Reducing the time needed to create online, in-app, and printed content.
Freeing staff from repetitive tasks and increasing team capacity.
Encouraging the reuse of assets and increasing their ROI.
How to integrate PIM and DAM
The specifics of integrating a PIM and DAM will depend on the individual products you choose. However, it's likely that they'll use APIs (Application Programming Interfaces). APIs work behind the scenes to send data from one system to another. When selecting your software - if you do plan to integrate it - it's worth asking what APIs and integrations are available.
Integrating software is a complex process, and one with a lot riding on it, so you might want to use an IT consultant or software implementation partner to make sure it runs smoothly. A number of retailers have benefitted from looking outside the retail industry for specialist support (like La Anonima in Argentina, see below)
The publishing sector has been using software like DAM to streamline its content production processes for decades. So it makes sense for retailers to look for inspiration from this industry, which has already paved the way in terms of process and efficiency.
Real-life retail success stories
Hopefully, this article has made you more confident about the features and benefits of PIM and DAM, as well as the value of PIM-DAM integration.
At WoodWing, we've supported retailers around the world to create an integrated software stack that lets them manage their assets and creative processes more strategically.
Take a look at some recent customer success stories to understand how other retailers use WoodWing software to deliver great customer experiences, increase productivity and cut costs:
La Anonima - Argentina's fourth-biggest supermarket chain - reclaimed control of its content and reinvented its marketing processes using WoodWing Assets.
Wizard Pharmacy - Western Australian health and wellbeing retailer with thirty-two stores - optimizes print and web marketing production processes.
S-Group - one of Finland's widest-reaching retail groups - uses WoodWing Assets to manage millions of e-commerce images with ease.
Fratelli Carli - A family owned Italian olive oil producer and retailer - managed to offer a consistent customer experience through multichannel (print and digital), 360° communication.
Hoogvliet - the Dutch grocery giant - saved 40% of their catalog production time with WoodWing Assets and WoodWing Studio.