If you listen to the hyperbole, copywriters will lose their contracts, journalists will be replaced by bots, and marketing agencies will become obsolete. Since we're not unfamiliar with writing, publishing and creating our own content, we thought let's put it to the test. Will ChatGPT be the end of human content creation?
But first...
What is ChatGPT?
ChatGPT is a conversational AI model developed by OpenAI. It is based on transformer architecture and has been trained on a massive dataset of text from the internet, allowing it to generate human-like text. ChatGPT can be used for a variety of natural language processing tasks, including text generation, text classification, and question answering. The "GPT" in ChatGPT stands for "Generative Pre-trained Transformer".
In a conversational setting, ChatGPT can be used to build chatbots that can interact with users and answer questions. The model has been designed to understand context and maintain coherence in long conversations, making it well-suited for building conversational AI applications.
How well suited? The above two paragraphs are written by ChatGPT. You may criticize the writing — a human writer might wonder why the adjective "massive" is used for something non-physical, and the sentence structure tends toward dreadful — but it does answer the question. And in the end, this is just an opinion.
GPT falls under a subcategory of machine learning known as "Generative AI". This type of AI examines large amounts of data and trains models that have the ability to produce new items.
For instance, when provided with millions of works of art, a generative-AI program can learn to produce its own art, much like OpenAI's popular creation, DALL-E.

Similarly, when given a substantial amount of computer code, a generative-AI program is capable of generating code of its own.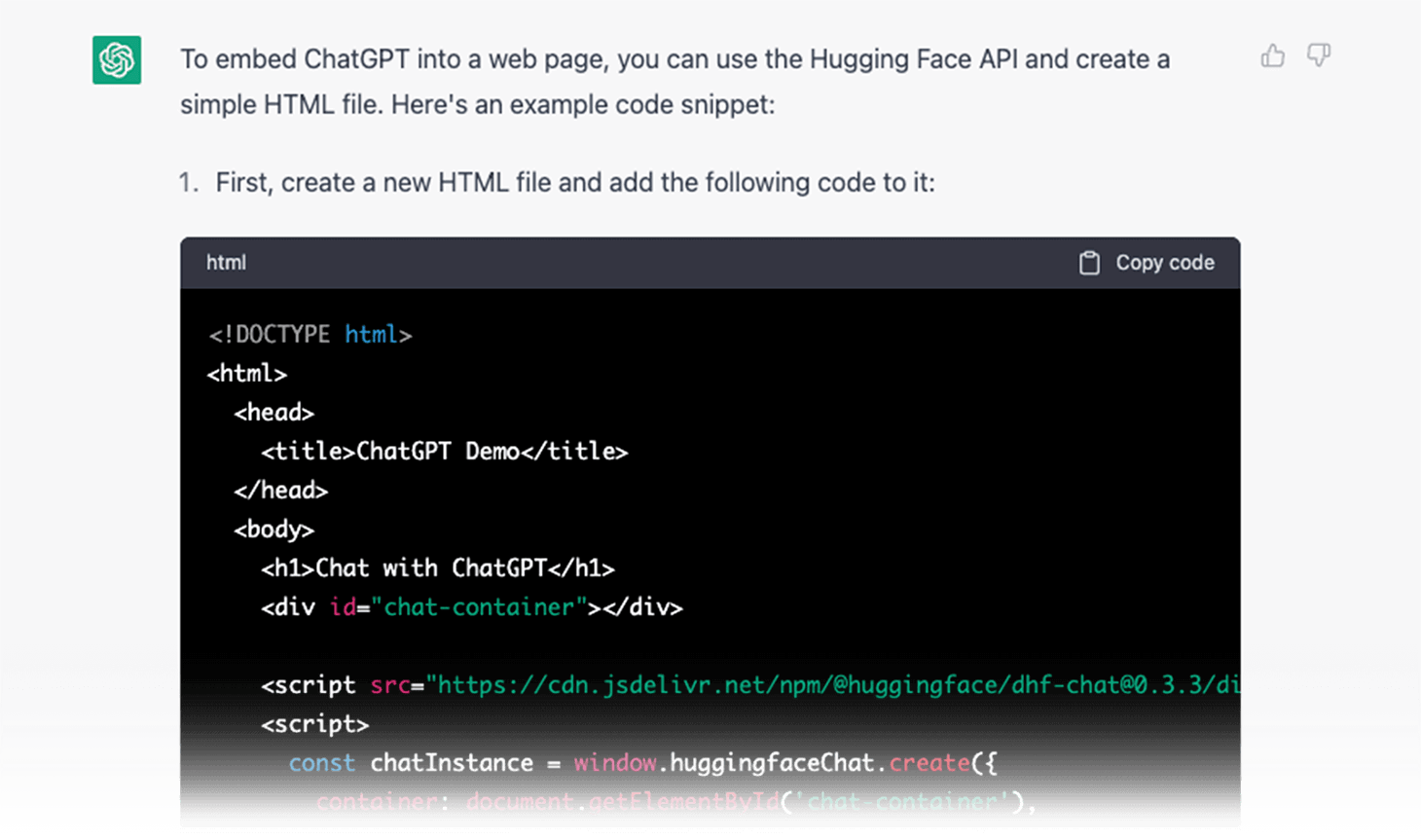 The Hype of ChatGPT
As seen around any new technology, it is all very exciting. AI has sparked imagination in everyone, eager to learn how it can make things better, faster, and cheaper. Our customers are very interested in the topic, as we discovered during one of our monthly partner webinars.

To help us understand the current hype around AI, it helps to look at this graph from consulting firm Forrester. It lays out the stages for any emerging technology.
A lot of the big tech breakthroughs over the past three decades, like the internet, the smartphone, and cloud computing, have been tracked using this cycle.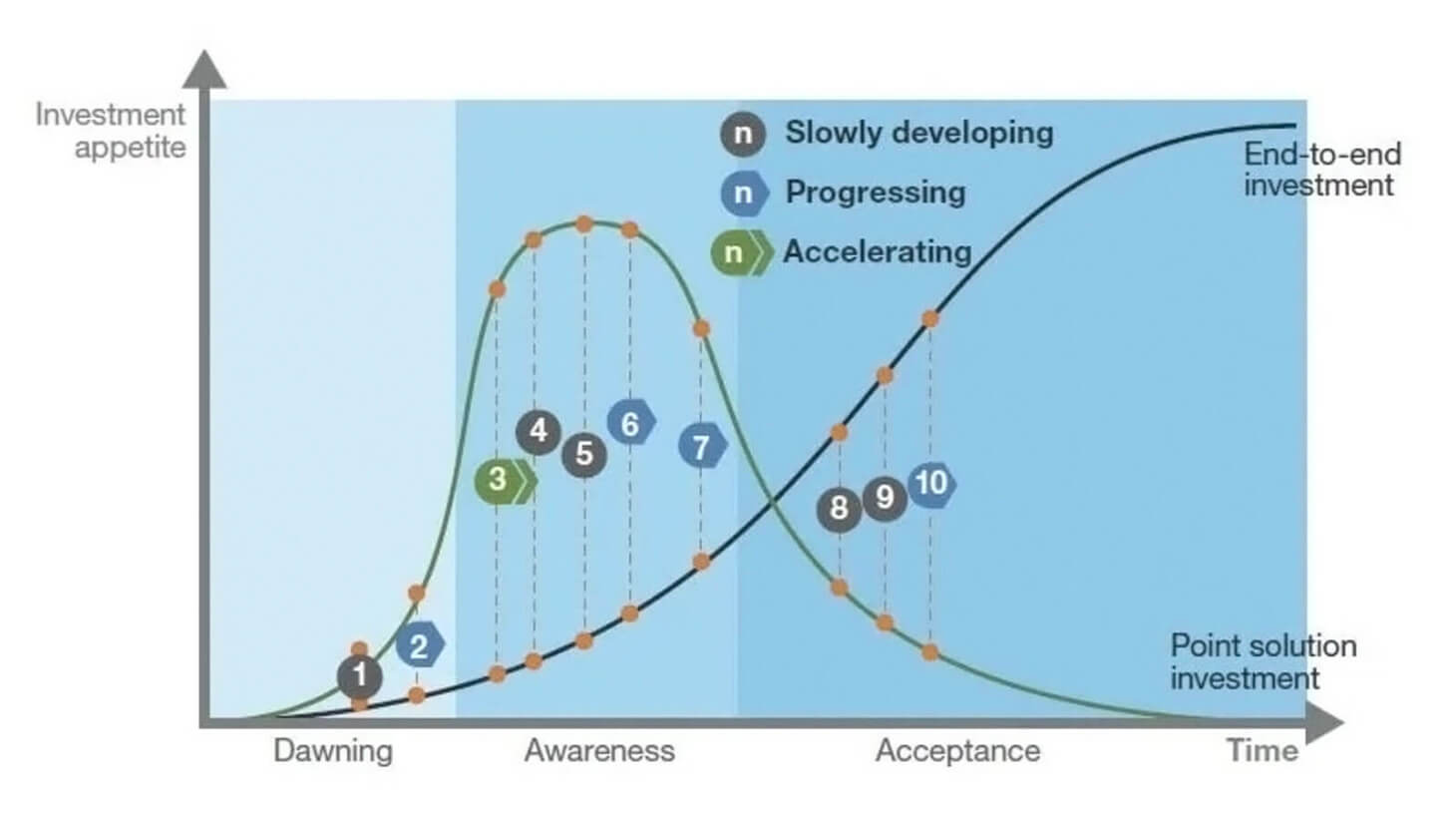 Source: Forrester
Let's take the internet, for example. The "technology trigger" was when the World Wide Web was first publicly demonstrated in '89 - it was interesting, but not many people paid attention to it, and even fewer saw its potential.
Then in the '90s, things got wild - the internet exploded with all sorts of crazy and sometimes far-out ideas, fueled by the dot-com bubble. That's when we hit the top of the awareness hump. Everyone knew about the Internet, was caught up in the buzz, and had inflated expectations of what it could deliver.
But what goes up must come down. The bubble burst, and we found ourselves in the acceptance stage, where development slowly took off. People started to think the internet was just hype and some companies were wiped out.
But here's the thing - the internet didn't go away. It just needed time to mature.
And that's what happened during that last part of the graph. Developers and investors started focusing on practical applications and improving the user experience. Mobile web launched, and before we knew it, the modern internet - which is basically the backbone of our economy - was in full blooming stage.
Forrester:
Visionaries will dominate dawning phase trends as they drive point inventions to address specific business organizations' opportunities.
Fast followers will discover the limits of point solutions in the awareness phase and begin to work through them.
Enterprises will shift investment toward integrating capabilities across the customer life cycle in the acceptance phase.

So where's ChatGPT now on this cycle?
Since ChatGPT hit the scene, more people are jumping on the generative-AI bandwagon, and checking out other tools like Lensa AI. And according to the Harvard Business Review, this latest ChatGPT version is a "tipping point" for AI - like, it's finally ready for a whole bunch of new uses.
But before we get too excited. This also means we're inching closer to the top of that 'investment appetite hump' full of inflated expectations. And that means - people are starting to see all the ways that ChatGPT falls short.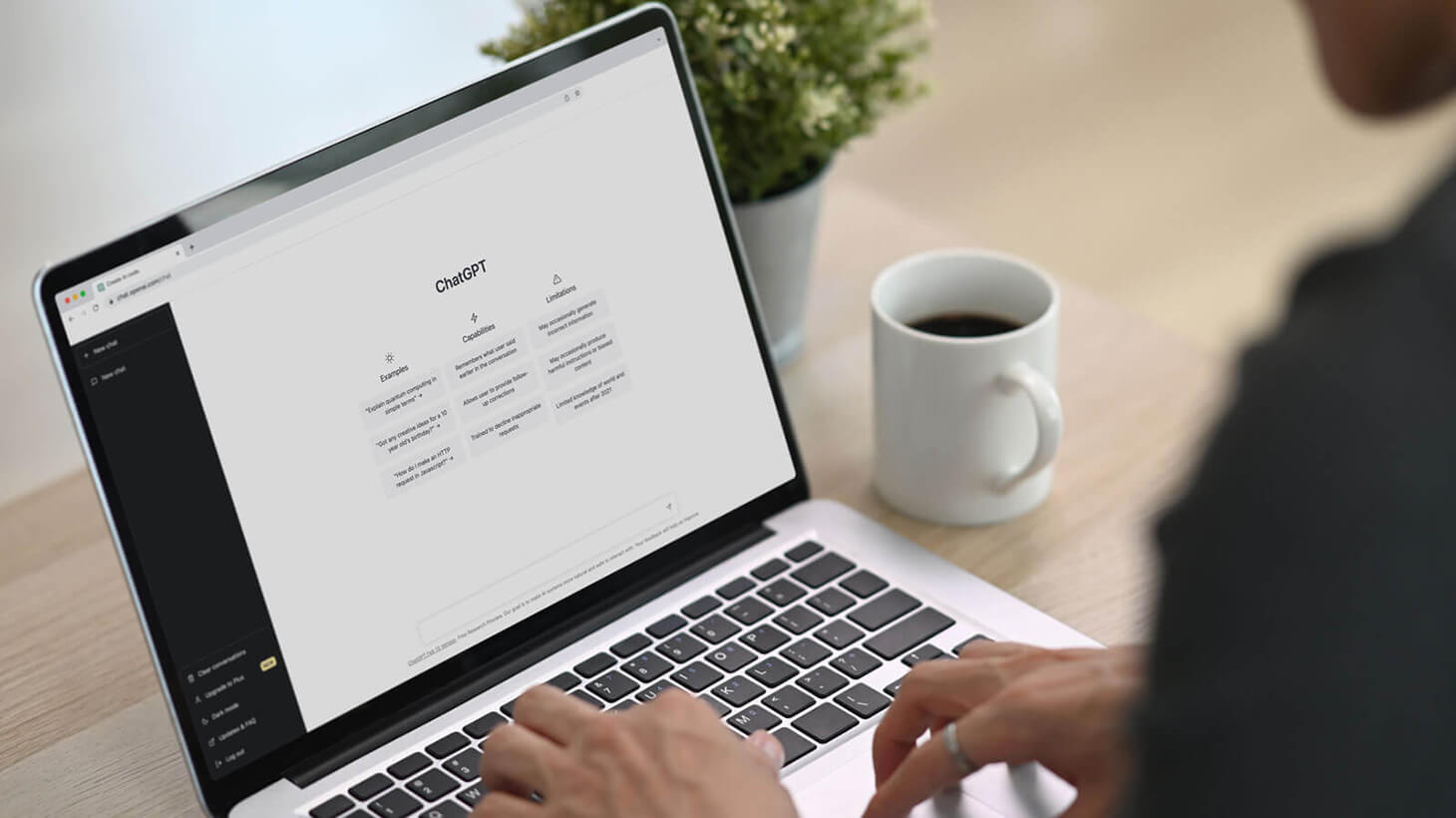 It's biased, spreads misinformation and gives harmful instructions. OpenAI is open about its shortcomings themselves.
For long-form copy - it lacks all but the most basic understanding of human search intent. So whilst it may be able to answer individual questions adequately, it isn't equipped to create engaging, informative articles at present. Longer AI-generated content feels like a student padding out an essay to get to the minimum word count. There's quantity but no quality.
The process of content creation. Does ChatGPT save time?
Eager as we are, we all couldn't wait to try the new way of ways to streamline our workflows and produce engaging content. We started feeding ChatGPT a few prompts and were amazed by how quickly it was able to generate responses. It was like having a virtual writing assistant at our fingertips.
"Great, let's save on the costs of copywriting, freelancers, journalists, and photographers all together and fully invest in AI," said no qualified leader. But many might think ChatGPT is the answer to a tight budget. Is this true?
Below you will find a number of tests to see if you can spot the AI over human writing and compare quality. Go through the six examples, and count how many you can get right:
TEST 1: What is Digital Asset Management?

If you are already aware of what DAM is and how DAM solutions differ from file sharing services, please skip to the next section. If not, read on.

There are a number of definitions of "digital asset", but for our purposes, it means anything that exists with a digital format that is of (financial) value to a business or organization, and has usage rights attached to it. This includes rich media such as stock library images, photos, design files, brand logos, presentations, spreadsheets, digital notes, documents and more.

As you may guess, Digital Asset Management is a business process for organizing, storing and retrieving these rich media, and managing digital rights and permissions.

As mentioned, digital assets can be stored on file storage solutions such as Dropbox, Google Drive, and others. But DAM software has a much broader function. Below is a list of areas where DAM software typically exceeds the functionality of file sharing or network server storage.
TEST 2: What is Digital Asset Management?

Digital Asset Management (DAM) is a system or process that allows organizations to manage, store, organize, and distribute digital assets, such as images, videos, audio files, and other types of media. The goal of DAM is to make it easier for organizations to find and use their digital assets, while also ensuring their security, accuracy, and consistency.

One of the key features of DAM is centralized storage. Digital assets are stored in a central location, where they can be easily accessed by authorized users. This makes it easier to manage and organize large collections of digital assets, and reduces the risk of loss or duplication.

Another important feature of DAM is metadata management. Metadata is additional information about a digital asset, such as its title, description, keywords, and copyright information. DAM systems allow users to add, edit, and search for metadata, making it easier to find and use digital assets.
TEST 3: What is rebranding and what advantages does it bring?

You can make rebranding as grand or as small as you'd like. From changing just your logo to completely starting from scratch with your product or service because of a merger or acquisition.

Advantages of a new brand range from improved brand awareness and Google ranking, to increased relevance to existing audiences and of course attracting new ones. What the reason may be, you are left with a considerable amount of digital assets. Both old and new.

How do you manage to stay on top of the rebranding process as efficiently as possible and make the investment worthwhile?
TEST 4: What is rebranding and what advantages does it bring?

Rebranding is a strategic process that involves altering the brand identity of a company or product. This includes modifying elements such as the name, logo, messaging, and visual elements. Rebranding is usually done for a variety of reasons such as to better reflect the company's mission or values, update an outdated image, or appeal to a new target audience. A successful rebranding effort can bring several advantages to a company.

One of the main benefits of rebranding is an increase in brand recognition. By updating the company's identity, it becomes more memorable and recognizable to consumers. This can lead to increased customer loyalty and positive brand associations. Rebranding can also improve the customer perception of a company. By changing the look and feel of a brand, it can become more appealing, modern, or relevant. This can lead to increased trust and improved engagement with customers.
TEST 5: Content pausing power

Content has pausing power when it is (what Google calls) "thumb friendly". The problem is that in order to create high-quality, thumb-friendly content you need time. Especially when thinking about time invested in research, production and possible visual imagery that usually accompanies a good content piece.

The result is that big media companies with the right ratio of manpower and paid media budget might well make the cut through the 8 hour daily clutter of content, whilst other, smaller, media companies might not. To reach the "thumb generation", Google advises media companies to:

Be centered around the consumer
Be bold with quick turnaround times
Be mobile-friendly But this alone is not enough.
TEST 6: Content pausing power

"Content pausing power" is a term used to describe the effectiveness of temporarily halting the delivery of content in marketing campaigns. This can refer to pausing or stopping ads, email newsletters, social media posts, or other forms of content. The idea behind content pausing power is that taking a break from a particular piece of content or campaign can actually increase its impact and effectiveness in the long run.

There are several reasons why content pausing power can be effective. First, pausing content can create a sense of scarcity or urgency, making it more appealing to the audience. When content is available all the time, it can become less valuable or less attention-grabbing. By pausing content, companies can create a sense of anticipation and excitement, leading to increased engagement and interest.
Not all the steps in content creation can be automated or executed by a bot. Especially during the research phase and the creation phase, ChatGPT might come in as a helpful addition.
Content creation, written blog posts in these examples, is an open ended cycle that repeats itself. Each step takes time depending on the topic.
Research

- SEO, compare, use tools, aim for uniqueness

Ideation

- Find a unique point of view

Placement

- Decide which channel is used and do external outreach

Creation

- Take time to produce quality content

Publication

- Decide on lay out, supporting images and uploading
Promotion - Use all available and fitting channels and plan ahead

QA

- Do not ignore published content, optimize, build backlinks and re use.
Personally I don't use ChatGPT. It's an interesting development but I still like the human touch and creativity, in every sense of the word. I don't just write text for my customers, but also help them figure out where they stand, what their audiences are looking for and how they can optimize the use of created content to get the desired response.

Aranka Aarsman, Content creator
Now let's sum up and look at why ChatGPT still can't replace your content team
As mentioned, ChatGPT acknowledges their own shortcomings. Looking at the results and the fact that using the bot as an extra tool, the technology will only cost you more money and is considered a gadget at most, when we ask our own content creators.
As Tom Pijsel (VP of product management at WoodWing) advises customers in the company's Help Center for WoodWing Assets and WoodWing Studio:
"It doesn't mean these solutions cannot be of great value for a content writer, it can for example assist you with summarizing text, creating social snippets and headlines, help to create interview questions, translate content, gather content, set up FAQ's or make a draft plan."
In our experience this adds time and thus money to the steps of quality assurance and research phase of content production instead of saving any. Extra steps, even, are taken to check if written content is not ChatGPT generated with extra tools. We'll need a human to take those actions. And we get paid.
The technique behind ChatGPT is nonetheless very helpful, interesting and sparks imaginations in any of us. WoodWing will definitely keep an eye on the possibilities these new techniques bring for our own solutions.
This content is written by a human being. Some parts of sentences may be generated with the help of ChatGPT.