Why is it that some publishers are flourishing in the new omnichannel landscape - producing more content across more channels - whilst others fail to scale in the same way?
It might seem like money is the answer. But simply throwing budget or bodies at a problem isn't an efficient way to fix it.
From twenty years' working with the world's leading media brands, we know that the most successful publishers have undergone wholesale changes to their publishing strategy and systems.
They haven't made their staff work harder, they've empowered them to work smarter. And it starts with channel-neutral content creation...
What is channel-neutral content creation?
Channel-neutral content creation means preparing content without a specific publication destination in mind.
That doesn't mean you don't know where you're going to publish it. It just means you aren't limiting your options by thinking of content pieces in terms of 'print' or 'web' or 'social media'.
It is the opposite of print-centric thinking - or any other tunnel-vision approach to publication - and it is particularly important for any publisher that has multiple channels, brands or products.
It's an important mindset shift if you have an omnichannel content strategy. Here's an example:
Channel-centric / print-centric
Magazine editor: 'This is an article about the Royal family for the January issue of our magazine'.
Meanwhile, website editor: 'We need to write an article on the Royal family to coincide with the forthcoming royal baby…'
Channel-neutral content creation
Managing editor: 'This is an article about the Royal family. We can use it in the January issue of our magazine, as a website feature to coincide with the forthcoming royal baby, as part of our 'celebrity' campaign on social media in the summer, and in next year's book series on 21st-century history'.
You can describe the channel-neutral approach as COPE-ing: creating once, publishing everywhere.
Immediately, you can see how a mindset shift can increase the ROI of an individual piece of content - even providing opportunities to monetize it. With increased oversight and transparency between departments, one piece of channel-neutral content can feed multiple channels, brands or products..
It's about crafting engaging, value-adding content that can be deployed easily across any channel that's relevant for your audience.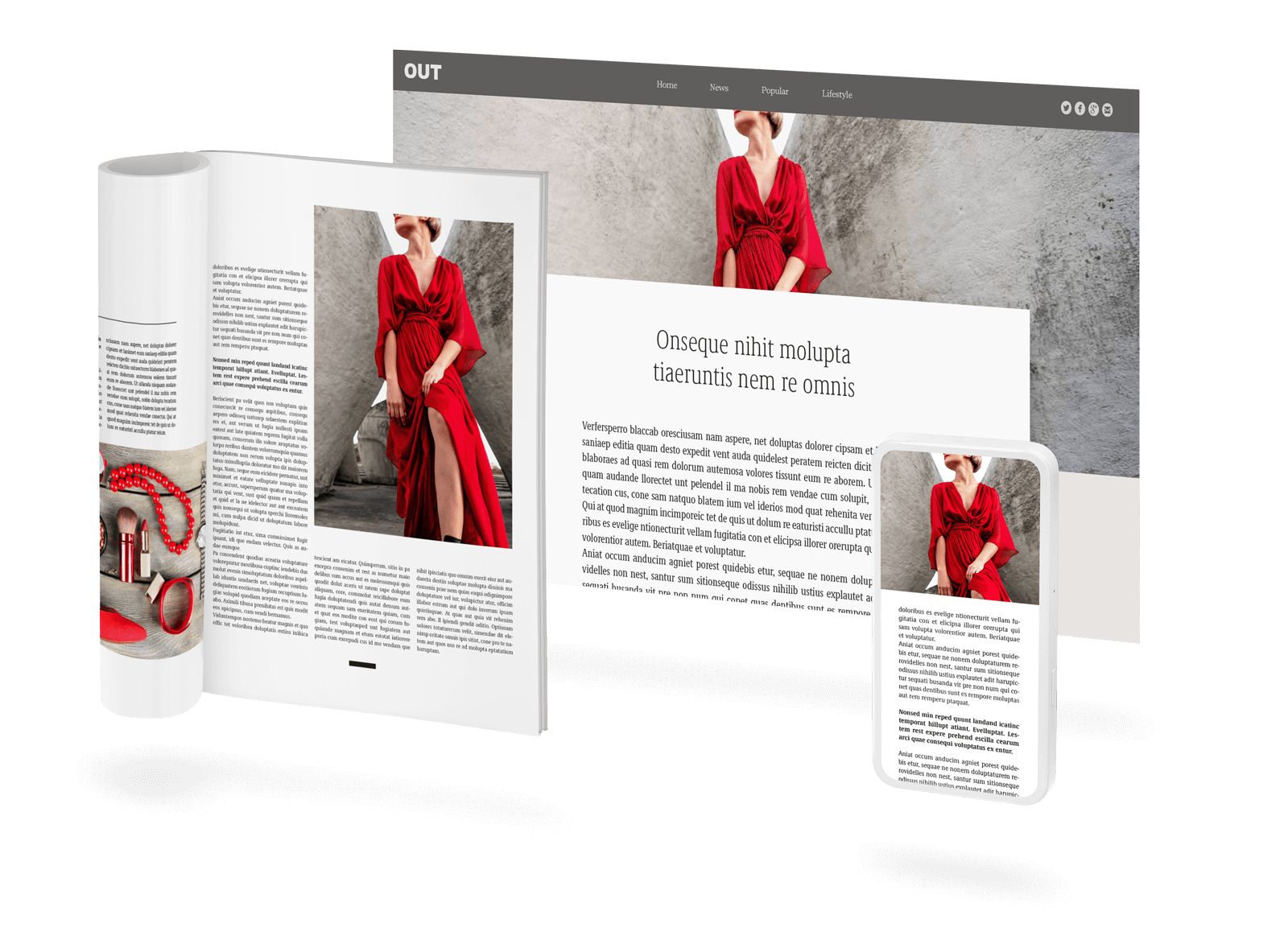 The channel-neutral content creation approach strips away historic processes that are no longer fit-for-purpose. It reimagines and optimizes editorial and production workflows, freeing up time to focus on storytelling and quality, not channel-specific admin tasks.
This approach can't be achieved overnight. As well as changing your mindset, it often requires changes to people, processes and technology.
But once channel-neutral content creation is adopted and embedded in a publishing business, it can unlock significant productivity gains and competitive advantage.
At WoodWing, we use the phrase Content Orchestration to describe this shift to a more efficient and profitable workflow.
Content orchestration is people and tools working seamlessly together - to plan, create, manage and distribute content - efficiently and profitably.
Five benefits of the channel-neutral approach
The channel-neutral / content orchestration approach helps publishers create more content by streamlining workflows. It should be a key foundation in any omnichannel content strategy.
Here are five key benefits:
New fit-for-purpose workflows

equip your team to go from idea to publication in the fastest possible time, minimizing friction and streamlining the whole process from beginning to end.

Sharing content across channels and brands

increases the ROI of individual content pieces, stretching your budget further and reducing duplicated efforts and costs.

A single centralized system

lets internal and external collaborators work together, increases transparency in the production process, and allows you to easily deploy staff across brands and products.

Automated processes

free up your employees for higher-value work, focusing more heavily on creativity, storytelling, and active content curation.

Integrating DAM into your software stack

lets you apply metadata and taxonomy to published content, to create a searchable archive of content for reuse and repurposing.
Whether you call it omnichannel or multichannel publishing - the channel-neutral approach is a game-changer for efficiency, productivity and cost-minimization.
Publish effortlessly to print and digital platforms with WoodWing publishing software
Discover WoodWing Studio for publishers
How to pursue an omnichannel content strategy
Spot channel-centric hangovers holding you back
The first step to adopting an omnichannel content strategy - underpinned by the channel-neutral approach - is to audit your current processes.
Many publishers are held back by processes that have evolved over time. Often these are print-centric workflows that have been adapted to take digital media into account. They may work… but they are unlikely to be as efficient as a fit-for-purpose workflow designed from scratch.
Look for bottlenecks, pain points and friction - these are telltale signs that something's wrong. A holistic review of content production is the best way to streamline workflows and increase efficiency.
Another hangover from print-centric thinking is staff structure. Employees are often siloed in teams based on publication channel - think 'print team', 'digital team', 'social media team' etc.
In your omnichannel content strategy, it doesn't make sense to restrict staff to print or digital roles. By implementing a channel-neutral workflow, staff can work on content for multiple channels simultaneously.
And - by providing them with a streamlined system for easily producing print and digital content - they can focus on great storytelling rather than duplicating effort with channel-specific tasks.
Blue-sky your ideal workflows
Next, start thinking about what your ideal editorial and publishing workflow would look like:
Do you really need to prepare copy for print before repurposing it for the web? Or would you rather do it at the same time?
Should there be channel-specific staff that manages all of the content for individual media? Or should individuals be responsible for their own stories on every channel?
Will you centralize published content to repurpose it for different brands? Or will you plan content with different brands in mind from the start?
Map out different workflows and test them with key stakeholders from different teams.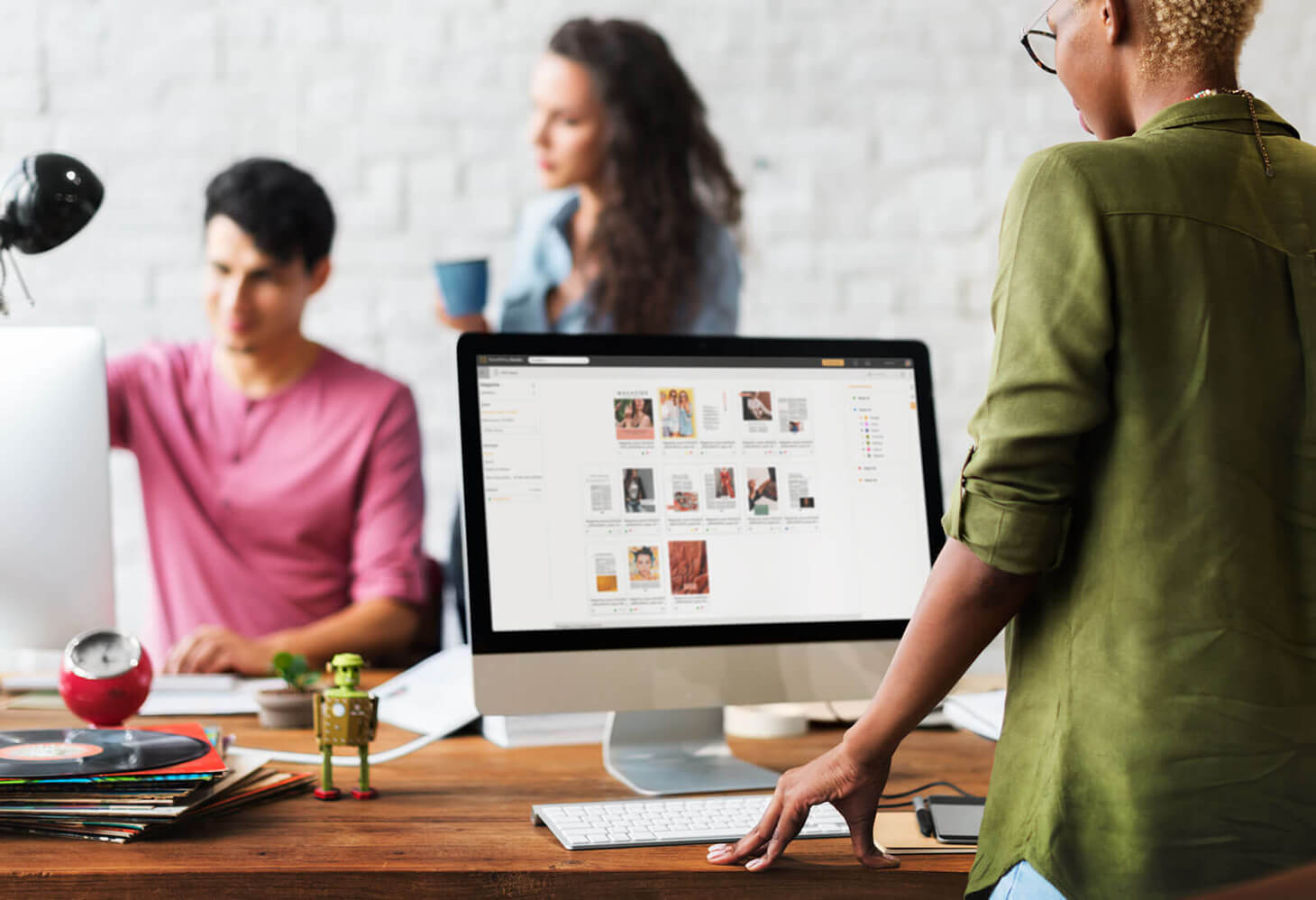 Transform new processes with content creation software
Once you've mapped your channel-neutral staff structure and workflow, it's time to investigate available technology. The right content creation tool can deliver efficiency, productivity and scalability to your operations.
WoodWing Studio is an example of content creation software. It empowers publishers - of any size - to create content for multiple print and digital channels in a fraction of the time.
Our content-first, channel-neutral approach focuses on creating content that people want to read; then simultaneously creating publish-ready variants for print, online, and in-app use.
And all within a single workflow that integrates your planning, editing, design, and publishing tools effortlessly. It's a multichannel publishing miracle!
It starts with your story.
Input copy into WoodWing Studio's text editor
Collaborate with colleagues until it's approved
Attach images from your DAM
Dispatch to your preset templates for print, webpages, and more
WoodWing Studio creates draft designs for your approval or further edits
Publish directly from WoodWing Studio: a) To your CMS or app b) Or send print-ready artwork to your print partner
Tag and store published content for easy discoverability for reuse and repurposing
It really is that easy to make your content stretch further and multiply your ROI per piece.
Content generation doesn't get any easier than it does with our streamlined content creation software.
At WoodWing we've helped publishers of all sizes - from multinational media brands to boutique publishing houses - to transform their content processes and their fortunes.
Our content creation software makes omnichannel content strategy and multichannel publishing easier than ever.
The channel-neutral approach unlocks more value from every piece of content you create. And content orchestration cuts costs by streamlining and automating processes. It's a power pairing that means higher productivity and profitability for publishers.
Explore your opportunities for simplified content generation with WoodWing. Contact us for a no-obligation chat with our PubTech experts today.