If your team relies on high-quality, on-brand assets to deliver competitive advantage – but you're using cloud storage to manage them – your systems are almost certainly holding you back. Cloud-based DAM provides a more agile and intuitive way to store, organize, and access digital assets – maximizing ROI, reducing time to market, and improving brand throughout your business.
What's the problem with cloud storage?
Clumsy cloud storage and poor asset organization causes bottlenecks, redundancies and risk to your business. Not to mention reducing your time to deliver core objectives and increasing your time to market. Whereas cloud-based DAM can streamline processes across your entire organization.
Take asset requests, for example. As in-house marketers, you're stretched in every direction – developing digital campaigns, assessing analytics, producing publications, smashing it on social… You could do with twice the team and double the budget.
So endless asset requests are the last thing you need. But with your company's current cloud storage system – like SharePoint, OneDrive or Google Drive – you get a lot of them. The CEO wants photos for his PowerPoint, the sales manager can't find the latest logo, the PR team needs visuals to send to the press... and you're their go-to person.
You haven't really got time to help. But you know that – if you don't - there's a risk of colleagues using out-of-date, copyrighted or poor-quality assets that damage your business brand. There's nothing worse than discovering a colleague has created a DIY brochure using Microsoft Publisher and grainy clipart they found online.
As digital assets multiply – and we're increasingly working remotely – you need a more effective way to store, distribute and provide access to your brand assets. One that gives everyone in the organization effortless self-service access to the latest files, without needing to come through you at all. You need a cloud-based DAM.‍
‍
What is a cloud-based DAM?
A cloud-based DAM is somewhere you can keep all of your organization's assets online – usually specifically tailored for visual assets like images, logos, video and artwork. Unlike cloud storage, it's more than just a collection of folders for keeping files safe online. It's designed to maximize the ROI of your assets by making them easily accessible to others. Users are never more than three clicks away from finding an asset, via an intuitive interface that allows for browsing or searching on a wide-range of features.‍
‍
What is cloud storage?
Cloud storage is also an online platform for storing and organizing files. It lets you store files securely on the cloud and grant permission for colleagues to access them. However, it isn't built with discoverability in mind, which means it is more labor-intensive to access files. Plus, it isn't built specifically for visual assets, so doesn't have the same functionality to add meaningful metadata or allow advanced search.
‍
Why is a cloud-based DAM better than cloud storage for in-house marketing teams?
1. Discoverability and access
The fundamental difference between cloud storage and a cloud-based DAM is ease of access. DAM makes it easy for anyone in your organization to access up-to-date, on-brand assets for use in their materials. Whereas cloud storage requires files to be actively shared between colleagues or discovered through different folder structures.
A cloud-based DAM starts with the assumption that all uploaded assets are shared and people need to be able to find them. By making all of your assets readily available across the organization, you benefit from:
Improved brand control and consistency
Better ROI by making assets re-usable
Reduced servicing of support requests
More time to deliver creative work


What makes assets so easy to find in a cloud-based DAM?
The foundation of findability is metadata. This is the information that gets attached to a file to make it discoverable through search. In cloud storage, metadata is usually the bare minimum – file name, date and some technical information that no-one understands.
In a cloud-based DAM, you can have detailed, bespoke metadata to help users find files. This might be metadata you add yourself, like which department commissioned a photo shoot or which campaign artwork belongs to. Or it could be added automatically by AI, such as the subject, colors or even emotions conveyed by an image.
This means that the CEO can search for 'product launch 2021' and the PR manager can search for 'smiling staff' and still discover the same image for their needs, without having to navigate complicated file paths or request access from a colleague.
DAM users can also find assets by browsing through curated collections that make it each to discover suitable assets, even if they don't have anything specific in mind to search for. Not only that but – unlike cloud storage that simply serves up a file 'as is' – a DAM can automatically resize or convert file types for different uses. This means the CEO can choose to download a reduced resolution RGB file that won't slow down his PowerPoint, whilst the PR Manager can access a high-quality CMYK print-resolution image for the press.
2. Increased control
Although improved access is a key tenet of cloud-based DAM, it doesn't mean your assets are now a free-for-all. You're still able to protect assets that you don't want everyone to use – such as embargoed images or commercially sensitive artwork – by setting up permissions. These can range from broad categories for whole teams, to granular access permissions for individual files or folders.
3. Version control
A cloud-based DAM lets you embed assets across multiple channels by easily integrating with other software in your stack. This means that you can update a master asset and see those changes applied immediately across all digital uses. You can also easily see which assets are the most up-to-date version with built-in version control and audit trails.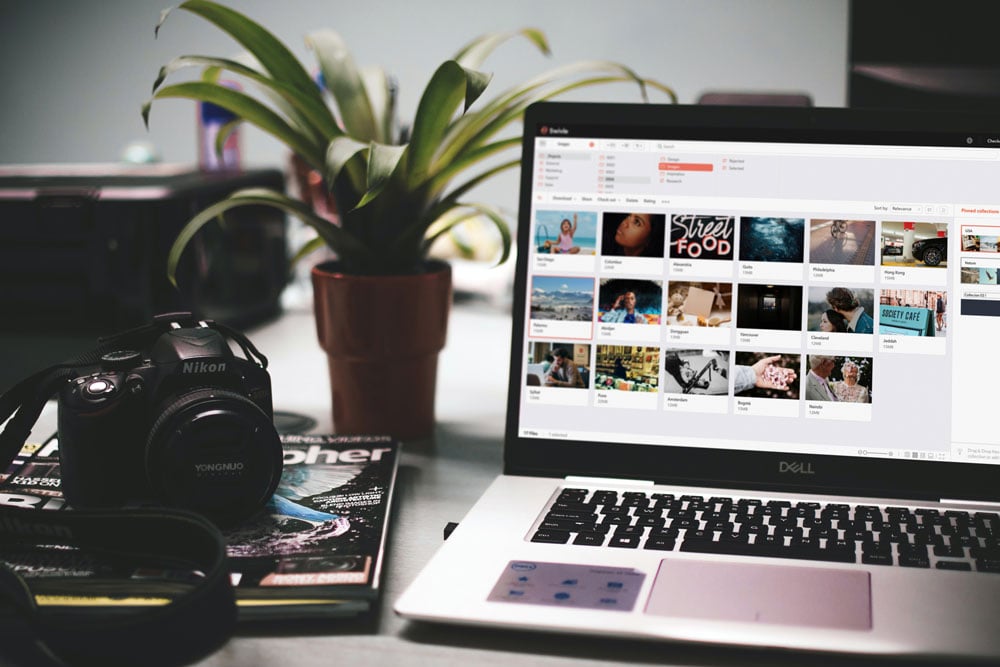 4. Sharing options
You can easily share assets internally or externally with a cloud-based DAM. No more copying-and-pasting a file path or waiting to transfer big files via a third-party site. Simply create a folder in your DAM and send your colleague a link so they can immediately access the contents.
5. Collaboration
Whilst some cloud storage offers the opportunity to collaborate on documents within their platform, cloud-based DAM can take things further. Seamless integration with Adobe Creative Suite and productivity tools means DAM is more than just 'storage', it's also a creative hub for all your content creation.
6. Analytics
Marketers know measurement is key to maximizing ROI. But you can't measure much with cloud storage. Whereas, with cloud-based DAM, you can analyze downloads and see where assets are used. This builds a picture of what assets work best and where to prioritize future budget.
7. Reusing images, designs, and content
Designers and writers frequently repurchase or recreate assets that closely resemble ones that already exist in some shape or form, but are hidden away in different locations. Having one centralized place to access and find all your assets promotes content reuse, which in turn reduces the need to purchase new images and recreate assets, leading to significant cost savings.
If you'd like to explore WoodWing's intuitive cloud-based DAM, WoodWing Swivle, contact team@swivle.com