Retail content needs to get to market fast, across multiple channels and different regions. But with products, information, and availability subject to rapid change, it's hard to keep up.
Forward-thinking brands in the retail industry are tackling this problem head-on. They're looking to technology and automation to take the strain - instead of throwing more cash, staff, and agencies at a broken system.
Here are three real-world examples of retailers flipping the script on content creation and realizing major productivity gains through digital transformation.
In this article:
What's the problem in retail content creation?
The omnichannel retail landscape includes e-commerce sites, apps, customer communication, in-store promotion, and more. And many retailers are struggling to meet the content creation needs of these platforms.
Optimizing content for multiple platforms and technical specifications
Managing numerous editorial and production workflows
Keeping changing product specifications, imagery, and offers up to date
Receiving and distributing promotional content with third parties
Balancing digital retail needs with in-store collateral
This can lead to brands failing to realize the full potential of their channels and missing opportunities to be visible where their customers are.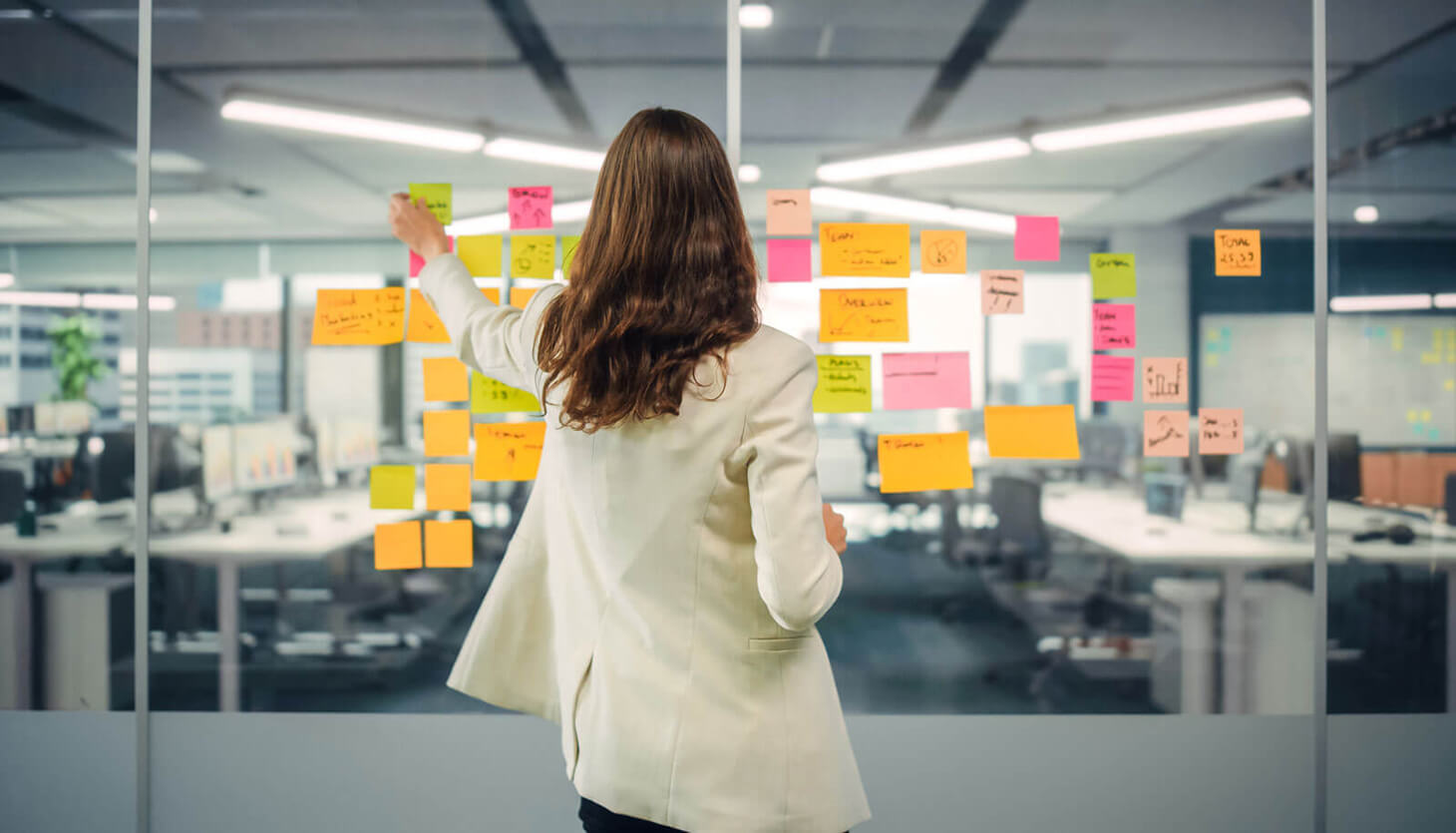 How digital transformation helps retail content creators
Digital transformation is essential if retailers want to overcome challenges in their content creation and optimize their processes for omnichannel customer engagement.
Fortunately, technology has kept pace with these challenges. Numerous software solutions exist to make content creation faster and easier to manage. And, in doing so, unlocking team capacity, streamlining workflows, and creating modern digital-first processes.
Transformative tech for retail content creators
personalization platforms
Customer engagement platforms let marketers scale personalized communication with customers across every touchpoint. They ingest/use data to build highly focused target audiences, allowing marketers to orchestrate hyper-relevant content delivery across web, email, messaging, in-app and more.
Digital Asset Management systems
A DAM provides a centralized place to access assets - like images, video, and artwork - so it is readily available to everyone involved in content creation. Integrated with other software, it removes friction and frustrations from the production process, increasing productivity and profitability. DAM can be combined with PIM - and used 'headless' to power e-commerce marketing at scale.
Editorial workflow systems
These take the pain out of collaborating on content by providing a single system where internal and external contributors can work together. Content progresses through an automated workflow, tagging in contributors when they're needed. Users can create, amend, and sign-off content in real-time.
Multichannel publishing solutions
A multichannel publishing solution allows for channel-neutral content creation. Creators prepare content without being restricted by specific channel requirements. Content is then automatically optimized for publication and distribution across multiple print and digital channels, using templates and automatic file versioning.
Content orchestration
Content orchestration is an approach to content creation rather than an individual solution. It integrates various software to create a seamless end-to-end workflow for creating and disseminating content. This might include a DAM for easy access to assets, an editorial workflow tool for collaboration, and plug-ins to publishing software like CMS.
Three examples of digital transformation in retail content management
WoodWing has over 20 years of experience helping brands digitally transform their content creation processes - as well as their productivity and profitability. Here are examples of how three of WoodWing's global retail customers have de-siloed, streamlined, and automated their way to content nirvana.
Creating digital-first workflows
How UK fashion brand Next redesigned their workflows from the ground up
One common problem in retail content management is unfit-for-purpose processes. Processes that have evolved and are just 'good enough' to get the job done. For many longer-standing brands, their content production has evolved from print-centric workflows to accommodate new digital needs too. This can seriously hamper productivity compared to digital-first e-retail brands that have built fit-for-purpose processes from the ground up.
That was certainly the case with one WoodWing customer, Next. Next is one of the most recognized names on the high street in the UK. Starting with physical stores in the 80s, the business went on to dominate the mail-order catalog market, before becoming the country's largest online clothes retailer.
They struggled with historically print-centric workflows that weren't suitable for e-retail marketing needs, plus undocumented processes that had grown organically rather than strategically.
They needed new processes and technology to allow the business to rapidly grow content creation, without an increase in resources. They wanted to transform their creative workflow into a digital-first approach, that was agile, scalable, and delivered faster time-to-market.
The retailer introduced a DAM system to become 'the content factory for all channels and outputs'. Using WoodWing Assets, the creative operations team:
Redesigned workflows from the ground up
Increased automation and semi-automated workflows
Eliminated manual handling of imagery, video, and artwork
Streamlined creative workflows through best-in-class Adobe CS integrations
Harmonized systems across all creative departments, reducing friction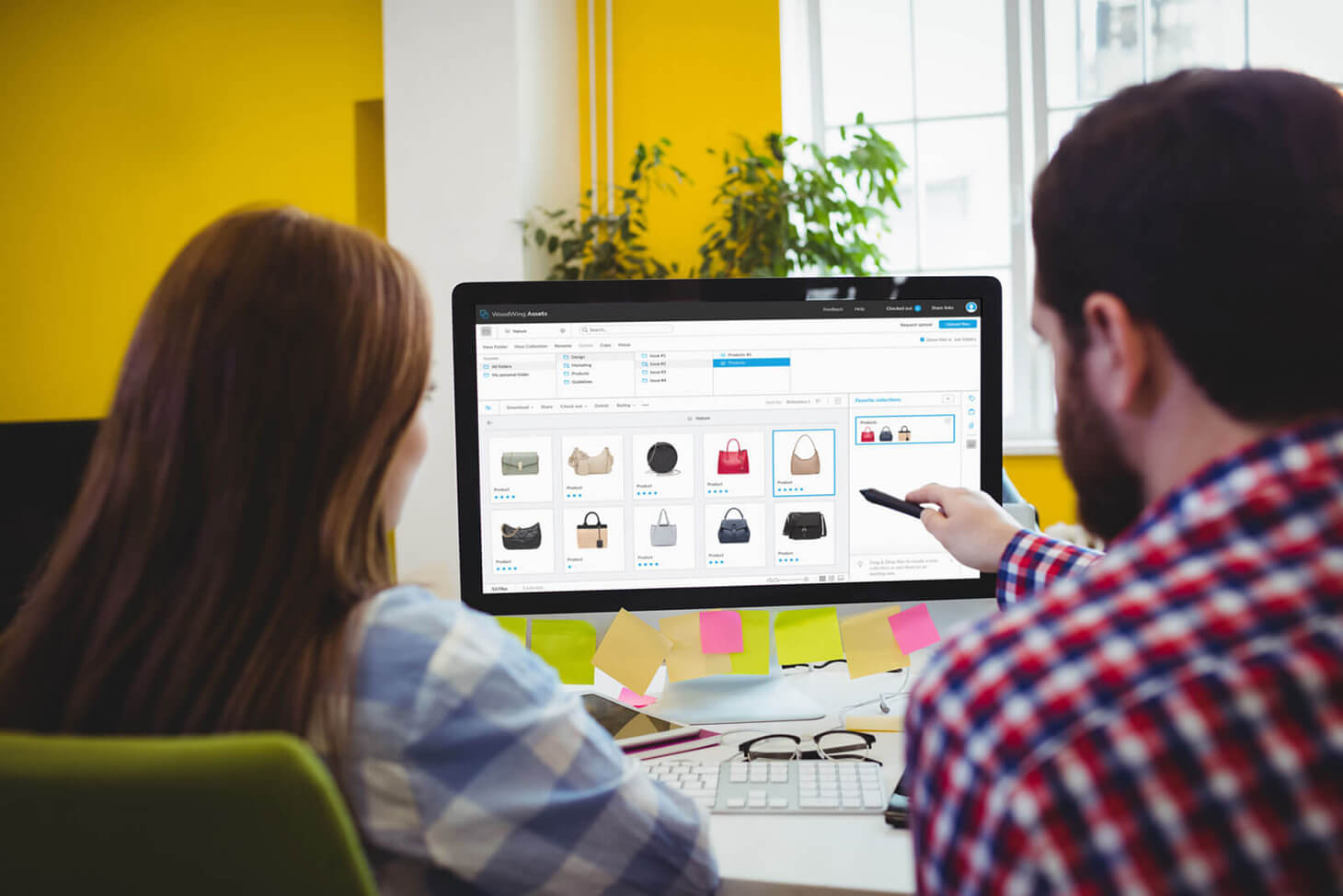 Automating e-commerce marketing images
How Finland's S-Group effortlessly handle 45 million e-commerce image requests daily
Retailers with e-commerce sites and apps often need to handle 100,000s - even millions - of digital assets to populate their website and app.
Manual image handling and quality controls can be a huge time sink, requiring product managers to check supplier-uploaded images and cross-reference them to product data. Issues such as wrong file type or resolution can cause delays to images going online - or, if not addressed, slower page load speeds - which can decrease customer engagement and conversion.
Implementing a DAM and syncing it with other retail software allows retailers to receive, optimize and deploy images from suppliers using automated processes. Images are automatically synced with product information from the PIM, eradicating the need for cross-referencing. And files can be automatically rendered to the correct file type, resolution or crop, to deliver an optimal customer experience.
Finnish retailer S-Group has over 3 million customers, 1,800 outlets and a large e-commerce presence. They deployed DAM - combined with PIM and a custom Content Delivery Network - to process 45 million image requests every day.
Dutch online-only grocery brand, Picnic, has also slashed the time it takes to get product images online. They have integrated DAM with PIM and Adobe Creative Suite to create a series of semi-automated processes. This includes ingesting new photoshoots, editing images, attaching metadata, and optimizing images for load speed. In doing so, they reduced their image processing from 5 to 6 days of manual handling to just hours.
Managing millions of e-commerce marketing images with ease.
Read more about S-Group's e-commerce content management solution.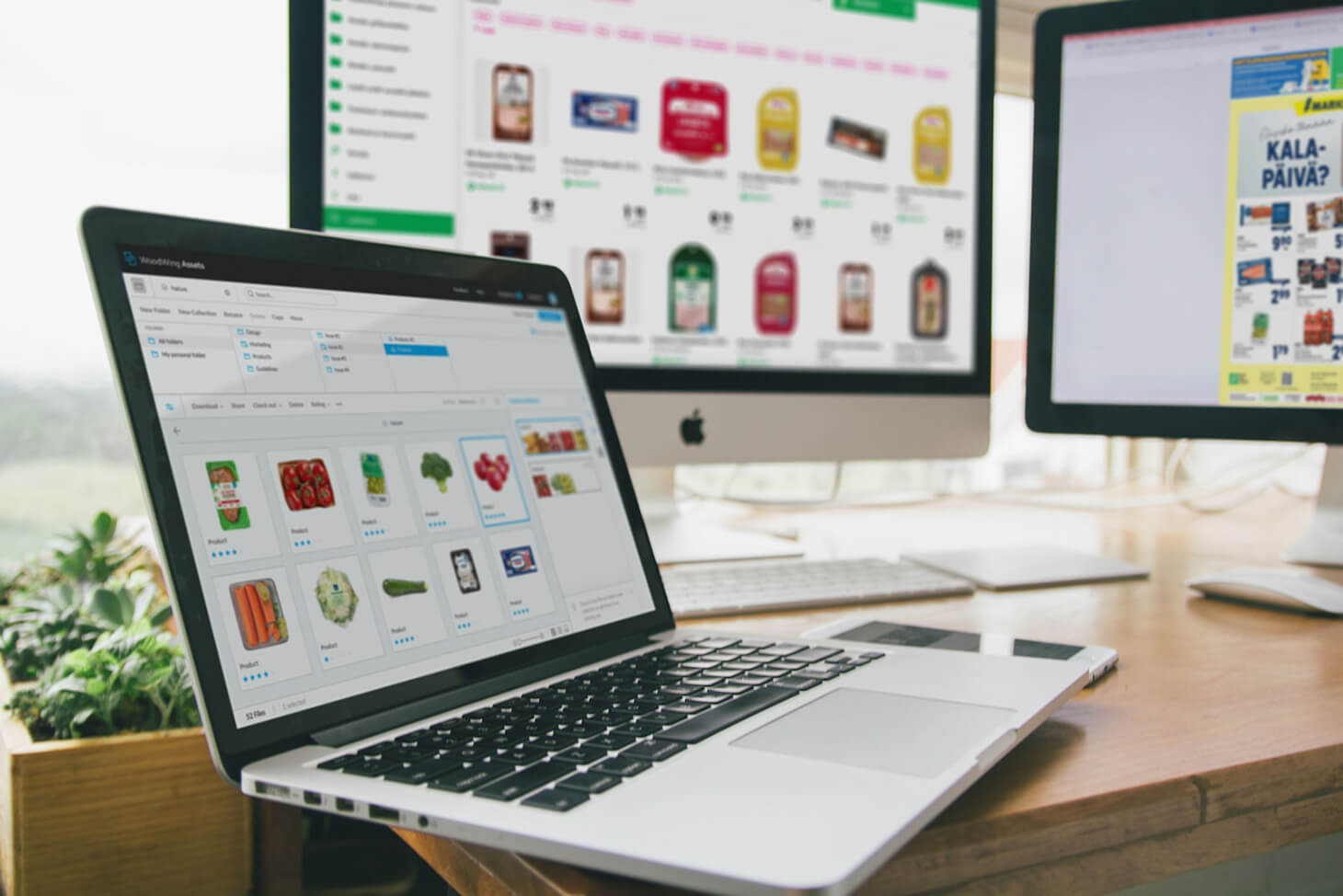 Slashing catalog production time and cost
How Holland's Hoogvliet cut catalog production time by 50%
Think omnichannel and we often imagine e-retail platforms first. But omnichannel also includes shopping in-store. And many in the retail industry - particularly in the supermarket and grocery sector - still rely heavily on printed materials to drive footfall and increase in-store sales.
Retail giants selling everyday essentials often produce POS and in-store collateral, as well as numerous catalogs localized to specific geographies. Given the fast-moving nature of consumer packaged goods, managing product information and content processes is a challenge. Especially when print is just one part of an omnichannel marketing strategy, which may also include e-commerce, app and social media.
Many retailers have mastered this problem by introducing DAM and integrating it with their Product Information Management (PIM) system and publishing software.
The integration of DAM and PIM allows product information and digital assets to be synced, meaning product images and information are always correct. When used alongside catalog automation software or Adobe InDesign, assets and information can be automatically pulled into templates, delivering considerable time and cost in the design process.
Hoogvliet is one of the top ten supermarket chains in Holland, boasting 71 stores, an e-commerce site and mobile app. Struggling to manage the content for these channels, they called in workflow consultants Qonqord for help to optimize and redesign their processes.
Qonqord immediately spotted Hoogvliet was hampered by manual processes for catalog production.
Manual data input
Fully outsourced layout and design
Poor asset management
Asynchronous approval processes via email and PDF
Supported by Qonqord, Hoogvliet integrated a number of publishing software solutions to create a seamless end-to-end workflow. These included:
WoodWing Assets for asset management integrated with PIM for product data
EasyCatalog and Adobe InDesign for automated catalog design creation
WoodWing Studio for real-time approval, amend and sign-off processes
They're now able to create a master data source that contains product and promotion information, push a button and automatically populate an InDesign catalog template.
The process pulls in product images from WoodWing Assets as their single-source-of-truth for product imagery and creates proof that all collaborators can view and feedback on within WoodWing Studio. If product details change, Hoogvliet can amend the master data source and the catalog artwork is automatically updated with the changes. Once agreed, the artwork is shared with their design agency, who finalizes the design.
Qonqord estimates that this has cut catalog production times by 40-50%, whilst bringing the initial production stages in-house has reduced outsourcing and agency costs.
It isn't just Hoogvliet enjoying faster content workflows with WoodWing.
Discover the benefits DAM unlocked for Argentinian supermarket giant La Anonima and Australian wellbeing retailer Wizard Pharmacy.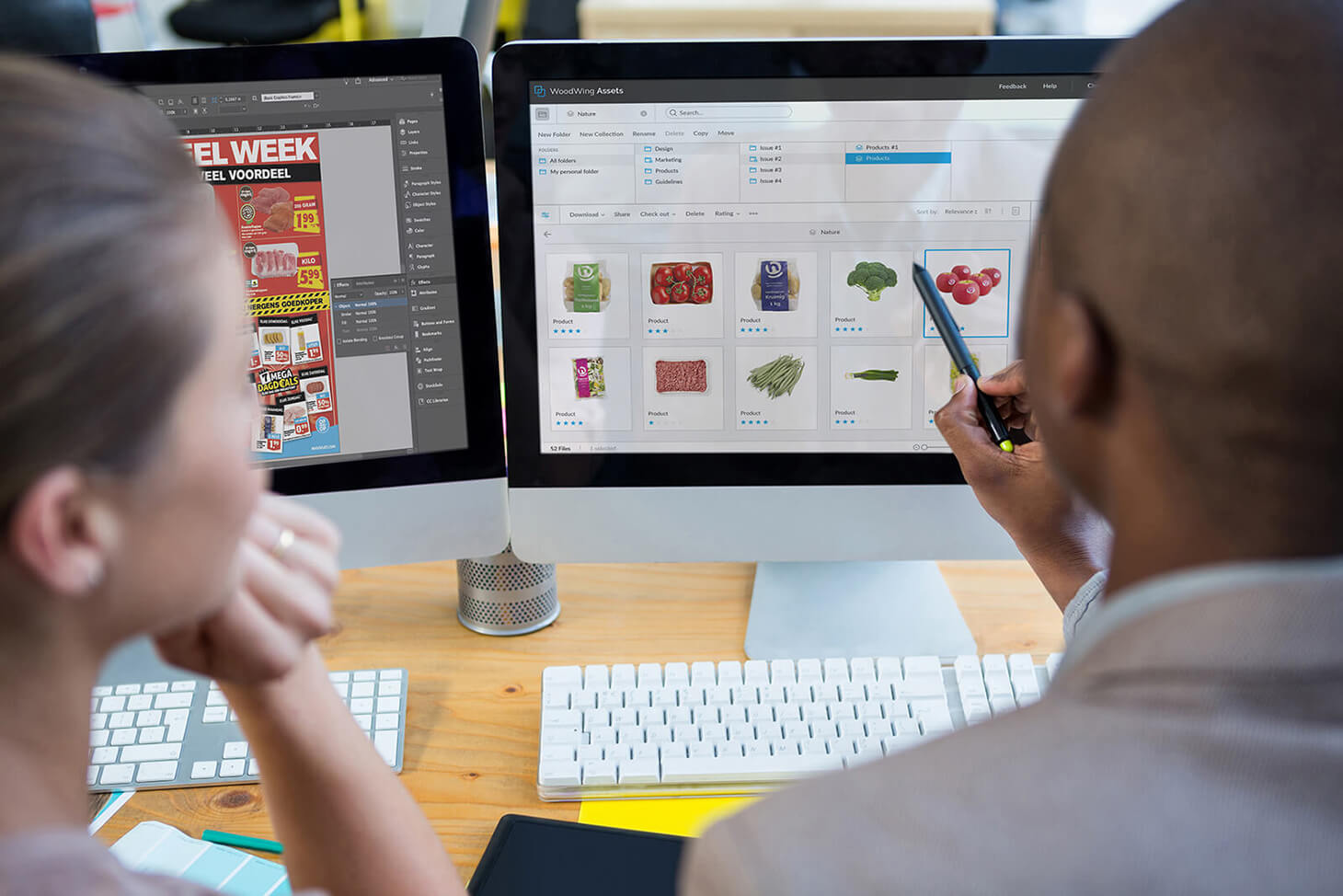 Final word: scale your content, not your inefficiencies
In the retail industry, marketing content is commercially critical. But incremental changes to software and staffing can create systematic inefficiencies. These lead to lower productivity, slower time to market and more manual work than necessary. Scale these processes and you're scaling up problems.
If you're an ambitious retail brand looking for more effective workflows - or a solid foundation to scale your content creation efficiently - follow the lead of the savvy brands above. Investigate and invest in content orchestration for retail and eTail.
Time to unlock greater efficiency and productivity in your retail content creation? Contact us to create together the best solution for you.