Sanoma Pro uses WoodWing Assets - our Digital Asset Management system - to strategically manage the photos, videos, illustrations and more that bring learning to life for their readers. But they also needed project management software to support their demanding editorial workflow.
During the webinar, Tuomo Suominen – Development Manager at Sanoma Pro - explained the bespoke integrations they developed to increase productivity, reduce manual work, eliminate production bottlenecks, and keep control of staff costs. He was joined by Samuli Jokipaltio of Smartium, a WoodWing Partner that supported Sanoma Pro with their software implementation and integration, solving significant production challenges.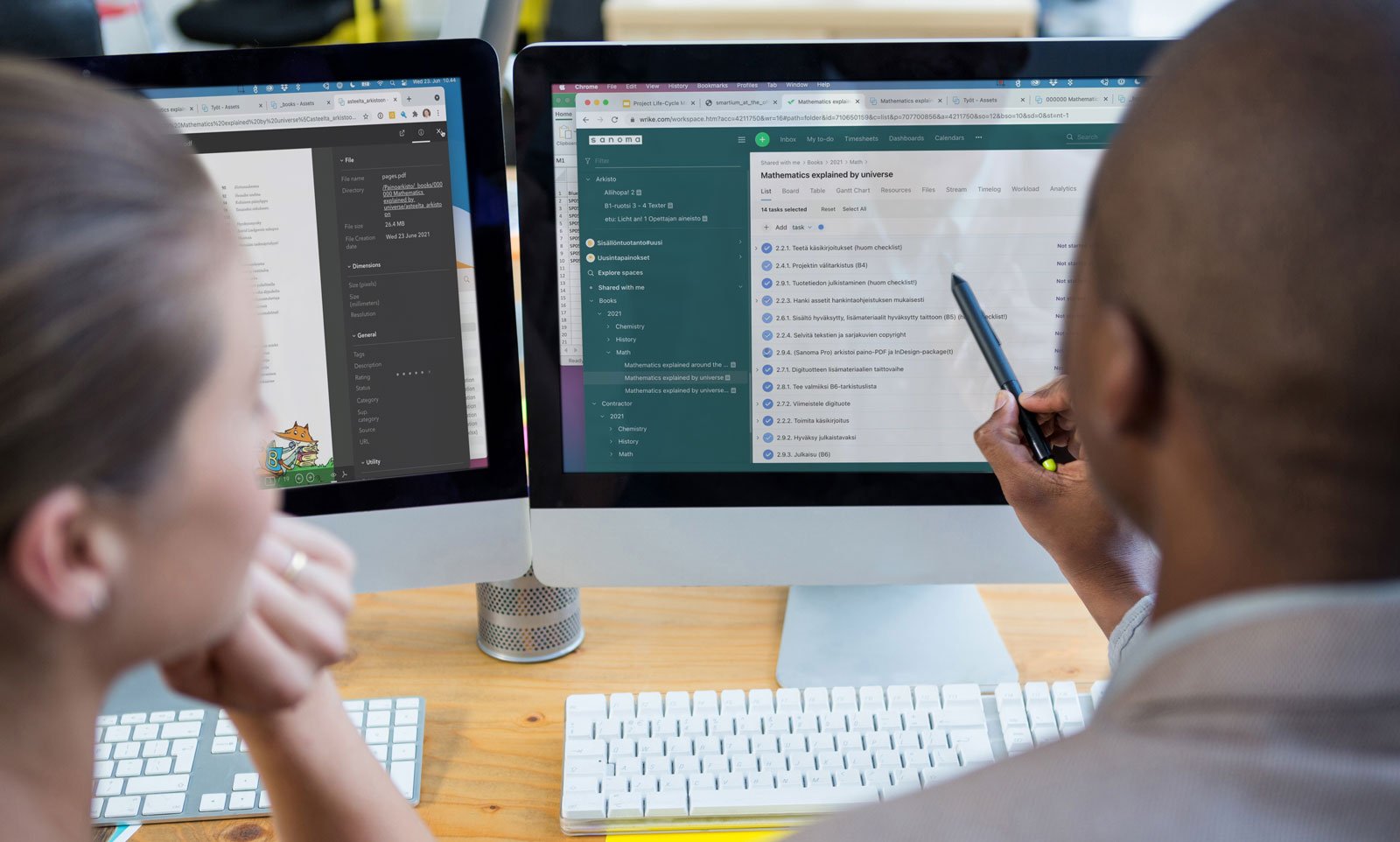 Using DAM in educational publishing
Between new titles and reprints, Sanoma Pro's 80+ editorial staff publish around 700 print publications per year, as well as developing and maintaining a growing library of digital content.
All of this multichannel content requires videos, photos, illustrations, animations, diagrams, maps and more, so Sanoma Pro have been using WoodWing Assets for digital asset management for 10+ years.
The system allows all contributors - both internal and external - to work from a centralized repository of digital assets, giving them quick and easy access to up-to-date files and relevant metadata.
In recent years, Sanoma Pro realised their editorial processes would benefit from the same centralized, single system approach.
They wanted to harness digital technology to improve project management, communication and collaboration. This was especially important given the number of external agencies, authors and freelancers involved in the content creation process.
When Sanoma Pro approached Smartium for guidance on project management software - understanding the fundamental importance of digital asset management to their creative processes - integration with WoodWing Assets was a top priority.
Smartium has been a WoodWing partner for over 18 years and a Wrike partner for three - gaining 500+ Wrike users in that time - so they were ideally placed to provide expert guidance to the educational publisher.
We have been using WoodWing Assets for over 10 years for digital asset management and in 2018, selected Wrike as a solution to schedule and monitor publishing projects […] The development and production and approval and deployment of digital assets like photos, photo images, illustrations, diagrams, maps, videos, audio animations are at the core of all of our publishing projects, so it was a top priority for us to link Wrike projects with the digital assets in WoodWing assets.

Tuomo Suominen, Development Manager at Sanoma Pro
As experts in the functions and flexibility of both software products, Smartium were able to propose a custom solution that combined the digital asset management capability of Assets and the project management tools of Wrike.
Through this integration, we've allowed relatively few people to perform a large number of tasks, to reduce errors, and to become very productive.

Samuli Jokipaltio, Smartium
CHALLENGE 1
Optimizing publishing workflows with project management software
With 700 editions annually, effective project management is essential for Sanoma Pro's busy editorial team. Publishing new titles, reprints and online content, the editorial team had set workflows for each type of project – their project blueprints - but they wanted a single place to schedule, monitor and collaborate on them. Integrating WoodWing Assets and Wrike offered that ability.
Project set-up is the first step in the life of any new publication. Sanoma Pro need a way to kickstart their production projects quickly and easily, providing internal and external contributors with everything they require to get to work.
Smartium worked with Sanoma Pro to develop a custom integration between Wrike and WoodWing Assets. With this integration, Sanoma Pro copy and paste project details into a custom form in Wrike.
This triggers the creation of a corresponding folder in WoodWing Assets, where project managers can simply drag-and-drop all of the images, illustrations, videos etc that are needed for the project.
A share link is created and inserted into the project details in Wrike. This allows any user with permission to access the project in Wrike to also access the related digital assets in WoodWing Assets, without external contributors needing their own login to WoodWing Assets.
Result:
A centralised space for collaborating on projects
Easy access to all project assets for internal and external contributors
Maximum project visibility and transparency
Listen to Suominen describe the integration between WoodWing Assets, Wrike and Excel:
CHALLENGE 2
Automating repetitive tasks and reducing human error
Whilst this worked well initially, it soon became clear that manually copy-pasting project information into Wrike was unsustainable. Sanoma's 700 editions per year include major peaks in Spring and Autumn, where hundreds of projects need creating and completing in bulk.
Sanoma's Tuomo Suominen estimated the current project creation method would take tens of thousands of manual actions per year - and all for a single staff member. Not only was this undesirable in terms of physically performing repetitive manual tasks, but it would also cause bottlenecks in the process and put the business at risk of manual data entry errors.
I estimated that creating 700 projects annually requires almost 50,000 manual copy-paste operations. And I was anticipating early retirement building carpal tunnel syndrome with this workflow. It was very ripe for automation.

Tuomo Suominen, Smartium
Hear Suominen describe the pressing need for automation:
In response to this challenge, Smartium created a custom automation that would eradicate manual project creation – speeding up processes, increasing accuracy, and reducing both workload and the risk of repetitive strain injury.
The process is triggered by uploading an Excel file into a specific folder in WoodWing Assets. This creates a new project in Wrike and a project-specific folder in WoodWing Assets for every row of the Excel file.
WoodWing Asset share links are created automatically as before and added to the project in Wrike. Also in Wrike, cross-tagging allows access for relevant external contributors, like agencies or freelancers.
Result:
Faster, more accurate processes
Achieving challenging targets with limited staff resource
Listen to Suominen describe the automation process:
Challenge 3
Ensuring completed projects are archived but accessible
Archiving projects is an essential part of the project life-cycle. But given the biannual peaks in workflow, this was a big bottleneck at Sanoma Pro, with hundreds of reprints completing in a short period of time.
The team had less than one full-time staff member to manage the process, which was complicated, manual and time-consuming.
Thankfully, Smartium was able to create an integration that significantly simplified and streamlined file clean-up and archiving.
Now, when all tasks in a project are marked as complete, and the project is marked as 'Published' in Wrike, project managers receive a notification prompting them to add the final artwork to the project file in WoodWing Assets.
WoodWing Assets then moves the project folder into a dedicated archive, deactivates the share link in Wrike, and restricts access permissions to project owners only. This means project files are protected from any post-publication changes or deletions, whilst still being easily accessible from Sanoma Pro's Digital Asset Management system if reprints are needed in future.
Result:
Almost completely automated archiving
Eradicates archive 'constipation'
Removes access to project files and assets when no longer needed
Provides access to an archive of all project files and final artwork for future reference
With WoodWing Assets and Wrike, we can create hundreds of projects at the touch of a button. But we didn't have a way to archive completed projects as fast as we created them. So we had a Wrike constipation problem. The completed column of the progress dashboard was filling up really quickly and - with scarce resources - we had projects piling up in the completed column for four months.

Tuomo Suominen Development Manager at Sanoma Pro
The archiving automation really did enable really small teams to perform a huge number of tasks really efficiently and on time. I think the archiving wouldn't have been possible with our resources and, if done manually, would have required multiple full-time employees. Which ends up being really good ROI.



Tuomo Suominen Development Manager at Sanoma Pro
Listen to Suominen describe the solution to their 'Wrike constipation':
The results
Sanoma Pro is delighted with the outcome of the integration between WoodWing Assets and Wrike. Without the automation that has been achieved, Sanoma Pro would have had to take on more staff to manage the biannual peaks in their production process.
By streamlining and automating key processes, they've significantly reduced the workload associated with project initiation and completion
They've managed to keep control of their costs and staff requirements by improving efficiency at the start and end of their projects
Internal and external collaborators can now work together, from a single-source-of-truth, for the full project lifecycle
Both Suominen and Jokipaltio see the potential for further developments with the software products, including:
Opportunities to develop deeper file structure for digital assets

Potential integration with other tools.
Optimize your publishing workflows with DAM
The use case and integrations described above are just one example of how publishers can harness the power of WoodWing products. Thanks to our open API, they can be integrated with almost any other software to create a bespoke software stack for your business.
Whether you're a large publisher like Sanoma Pro - or a boutique publishing house with a smaller portfolio - WoodWing products can help you optimize your workflows with time-saving automation and streamlined production processes.
Want to get into the real detail? Watch a short 10-minute demo of the solutions that WoodWing Assets partner, Smartium, built for Sanoma Pro: