If you're putting off implementing DAM in your business – perhaps because you think it will be time-consuming and tricky – think again. Depending on your needs, DAM systems can be implemented in as little as a few weeks time. Here's how.
STEP 1
Shortlist and select
The first step to successfully implementing DAM is to find the right system for your agency.
There are lots of excellent products on the market, all offering similar core functionality but with their own particular strengths.
To select the right DAM system for your business, you need to work out exactly what you need it to deliver. Here are some ways to work that out:
Speak to your creatives and project managers about the challenges the software needs to solve – what typically causes them delays and frustrations?
Consider the nature of your assets – some DAMs have specific functionality for different file types, such as video or InDesign files.
Look at your existing software stack – check for compatibility and integrations.
Think about the future – does the software offer scope to scale securely and cost-effectively? Armed with this information, you're ready to research the different options available.
Once you've shortlisted some systems that look suitable, request demos and speak to the sales teams. If they're anything like the staff here at WoodWing, they'll be happy to help you work out if their product is right for you.
STEP 2
Appoint and explore
Once you've chosen your dream DAM and signed on the dotted line, you should expect to meet with your supplier. In the current climate, this is likely to be through a series of virtual meetings rather than face-to-face.
DAM systems tend to be very flexible and you can usually configure them to your exact needs. Your supplier will walk you through the full functionality of the system and outline what they'll need to create your customized site.
You'll also learn about the technical side of effective asset management. Things like file structure, taxonomy, and permissions. You might not know much about them yet but these are the behind-the-scenes superheroes that ensure your assets are always easy to find and available to the right people.
Once you've been briefed by your supplier on these, you'll need to consider them in more detail and reconvene once you've made some decisions.
STEP 3
Plan and prepare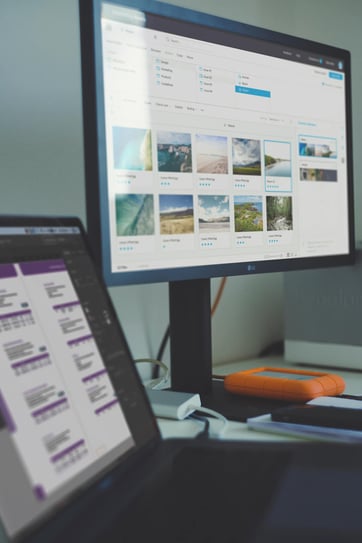 Whilst your DAM supplier tailors the system to your needs, you need to plan and prepare for how the system will be used.
Here are some of the things you'll need to think about, to make sure the system is set for success.
Users and permissions
Who is going to use the system and what are they going to be able to do?
Typical roles include:
Administrators – the people able to edit the DAM system itself and everything within it
Editors – people able to upload and edit assets within the system
Users – people with fewer privileges, such as download or preview only
Will you allow external users to access the system, such as clients or their contractors?
Structure
Will you have one central store for all of your clients or segment it into individual client portals?
What categories will you use to structure how assets are stored? For example: nature, portraiture, landscapes
Search and retrieval
What filters will you use to make search results easier to sort through?
What's the best way to collect metadata about the assets? User input or AI?
Once you've decided these key factors, your DAM supplier will be able to activate that within the system, ready for you to check and test.
Don't forget: Getting people onboard and using the system to its full potential will maximize your ROI. Think about what people need to know and how you'll communicate with them now, rather than leaving it to the last minute. Download our comms plan template to help you prepare.
STEP 4
Locate, audit, and upload
Once your system is set up, you'll be ready to start uploading assets. That's assuming you know where they all are!
One of the main reasons agencies need a DAM system is because staff have files squirreled away all over the place: personal desktops, email folders, USBs, and in the cloud.
A DAM provides one central place for all assets to be stored: 'a single source of truth' for your creative files.
However, to get there, they need to track them all down first. Start by asking all staff to centralize any assets they currently hold on their personal desktop, network or emails.
Next, you need to decide what to upload.
Many businesses have obsolete files, old artwork, and expired assets. There's no point adding those to your DAM as they'll just clutter up your shiny new system. So, decide some criteria in advance.
For example:
Currency (are they still relevant to current work?)
Popularity (how often is an asset used?)
Scarcity (is this the only asset you have for a particular purpose?)
Age (is the asset now obviously out-of-date?)
Once you've decided which files to upload, you can add them to the system, allocating them to specific categories and adding relevant metadata.
Added bonus: thanks to the information your new DAM will hold about assets, you should be able to run reports on things like popularity and age automatically in the future, helping you make informed decisions about what to keep and even commission.
STEP 5
Launch and onboard
Now your system is set up and populated, it is time to test that everything works as you'd expect. There'll probably be one or two kinks to iron out and it's best to find them before your grand unveiling.
Depending on the size of your agency and the complexity of your DAM, you might simply work through each process yourself to check it works intuitively and as planned. Or you might involve a small group of users to test the functionality for different groups.
Once you've got rid of any glitches or gremlins, you're ready to roll it out.
If you're a small agency with a handful of users, this may be as simple as sitting everyone down and walking them through it. If your agency is larger and has a higher number of users, you may need to schedule some training sessions.
And there you go! That's you up and running. If you've chosen WoodWing Assets, all of your files are now no more than three clicks away.
STEP 6
Maintain and develop
Once your DAM is established, you will need to dedicate some time to upkeep. This will maximize your ROI by ensuring it remains effective and easy to use. We recommend appointing a system admin who will be responsible for keeping your system shipshape. The key areas they'll need to attend to are:
Ensuring old assets are archived
Old and outdated assets can be a liability. You need to archive them regularly. Most DAM systems allow you to do this automatically (for example, archiving assets after a set amount of time) or manually (by getting a reminder to review assets after a set amount of time).
Onboarding and supporting staff
It is important that new staff understand how to use the system effectively. At WoodWing, our clients tell us our interface is easy and intuitive, so users can get stuck in with minimal support. However, not all DAM systems are as straightforward.
Consider:
Creating self-service 'how to' information
Adding training to new staff inductions
Making sure staff know who to call if they have any queries
Updating and upgrading
Most suppliers develop new functionality for their systems, released to users as updates. It is important to keep on top of these to make sure your system runs in optimum condition. Often these will be security updates to make sure your assets – and clients' – are properly protected.
And there you have it. WoodWing's guide to implementing a digital asset management system in six simple steps. If you are ready to explore your DAM options, we'd love to show you what makes WoodWing Assets so special. Get in touch today for a no obligation demo.