However, digital transformation is putting pressure on supermarkets to deliver more content across an increasing number of platforms. With overstretched marketers managing print, digital and social channels, process and workflow automation have never been so important.
So how can supermarkets automate their catalog production? Is it as simple as just using catalog automation software? Or are there bigger wins for more ambitious businesses?
The supermarket catalog channel
With challenges like stakeholder sign-off processes and product information changes to keep on top of, it's no wonder many supermarkets are automating catalog production processes to make more time in their day.
Here are just some of the reasons supermarket catalog production can be so time-consuming and labor-intensive.
Catalog production involves a lot of people and processes

- From deciding what to include in the catalog, to signing off the final design, production can include representatives from sales, marketing, design, and more. This means there's a lot of discussion, decision-making, and approval processes involved in getting the final artwork to print. If this happens via email and other outdated methods, it can seriously slow the process down - not ideal when you're working to a deadline. If the supermarket uses an external design agency, communication and file transfer to external suppliers adds another level of complexity.



Catalogs include a lot of products

- Simple, folded supermarket flyers can contain dozens of products while multi-page brochures and magazines can have hundreds. Each product might comprise one or more images, plus accompanying information like name, description, price, size, details of special offers, store availability, and more. Then there are non-product-related assets like icons, special offer graphics, typographic elements, and logos. That's a lot to keep on top of.



Information can change rapidly

- As if the challenge of organizing hundreds of images and information points wasn't enough, product details can be subject to change. Products may be included or removed from special offers, prices may change in response to external factors, and product packaging may be updated. In traditional manual production processes this is a risk factor, as changes could be overlooked, mishandled, or cause the catalog to miss its deadline.



Catalogs can require localization

- Some supermarkets produce one catalog for all their stores. But large supermarket chains - with stores of different sizes, in different regions - often produce different catalog versions to reflect the stock and special offers in different locations. This multiplies the number of schedules, processes, and assets that marketers need to manage.



They need to match digital channels

- Shoppers don't just consult a single piece of marketing collateral. They might spot a product in your printed catalog but decide to buy it online. Any discrepancy between information on the different channels can undermine buyer confidence - for example, different prices or product descriptions - resulting in lost sales or returns.



They're time-sensitive

- Some catalogs are produced weekly, meaning a strict production schedule and non-negotiable deadlines. This means efficiency isn't just a nice-to-have, it's essential if you want catalogs to hit the stores on time.



Processes can be manual and chaotic

- Many organizations have been slow to adapt to the new digital landscape and catalogs are still produced using manual - or a hybrid of manual and automated - processes. This can significantly slow down the production processes.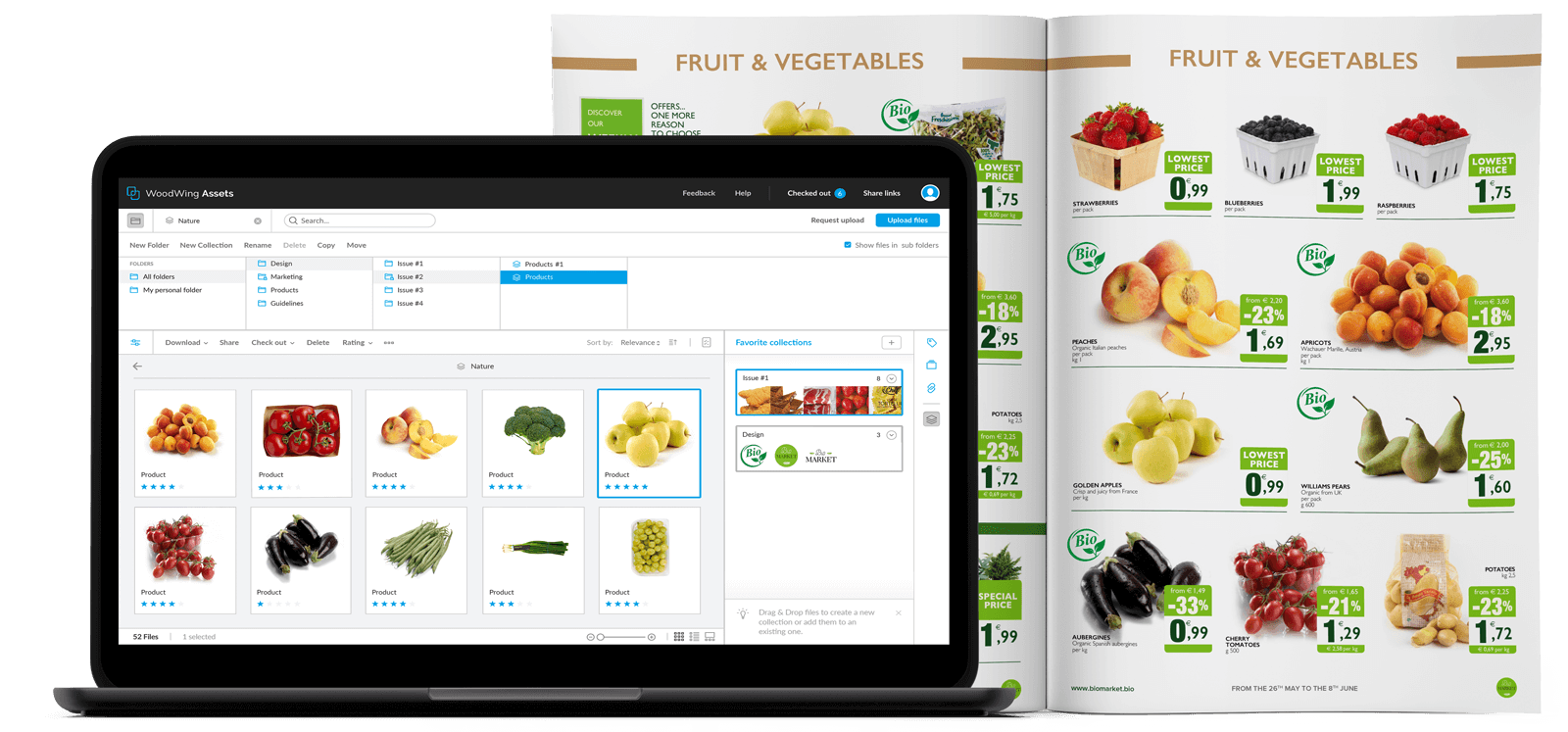 What parts of supermarket catalog production can be automated?
Supermarket catalog production can be broken down into the same key elements, regardless of the exact details of your individual business. And much of this process can be facilitated - even fully automated - using software. Here's how.
Creating the page layout/design
This stage involves agreeing the design, structure, and layout of the catalog, then building it in software like Adobe InDesign. This process might be performed by an in-house artworker, a freelance designer, or external agency.
The designer is responsible for importing and styling all of the product information and images, to make the catalog attractive and easy to read. That's a large amount of information and images to find, import, and format.
Plus, with so many stakeholders involved in the process, there may be a lot of feedback and amends to collect and incorporate correctly, as well as updating and maintaining the accuracy of product information if it changes during production.
By using and integrating software, these processes can be streamlined significantly, making it possible to produce a preliminary design in minutes, not days. For example by:
Creating reusable smart templates that automatically import and format product information from your master data source (like a PIM or spreadsheet)
Integrating your Digital Asset Management system with your design software, so that images are automatically pulled into your template too
Allowing multiple people to work on the same design simultaneously - including in-house and external agency staff
Importing product information
Supermarkets use a variety of ways to manage their product data: from semi-manual solutions like spreadsheets, to more specialist Product Information Management (PIM) systems.
In an ideal world, you'd be able to easily import this information into your catalog design and - even better - have it automatically update if product information changes. The good news is, if you're already using a PIM, this is perfectly possible.
PIM acts as a single centralized database of all product information - such as prices, descriptions, and stock levels. With the right integrations, it can feed other software - like ERP and e-commerce systems - with up-to-date product information too.
If you're able to integrate your PIM into your catalog production processes, you'll no longer have to worry about manually importing information, copying and pasting it into the right text boxes, and remembering to update information if it changes.
This isn't just a huge time-saver, it also removes the risk of publishing erroneous information or introducing discrepancies between channels, because any changes made to the master data source are automatically made in your catalog too.
Importing product images
DAM (a Digital Asset Management system) is another centralized database which - when integrated into your catalog production processes - can drive huge efficiencies. But instead of holding product information it usually holds product imagery, along with other assets like videos, logos, and more.
When PIM and DAM are integrated with your catalog production processes, magical things happen.
Product images can be automatically pulled into your catalog design alongside text and data
Product images can automatically update in your design (and anywhere else they're used) if they change in your DAM
Designers save significant time compared to manually searching for, retrieving, and importing hundreds of images from external sources or internal file servers
Traditionally DAM has a user-facing dashboard to let people easily add, search and download images. But retailers are increasingly using 'headless DAM'. This means there's no user-facing frontend, just a powerful backend that serves up assets to other systems, such as e-commerce sites.
However, like PIM, DAM can deliver digital advances and automations beyond just catalog production...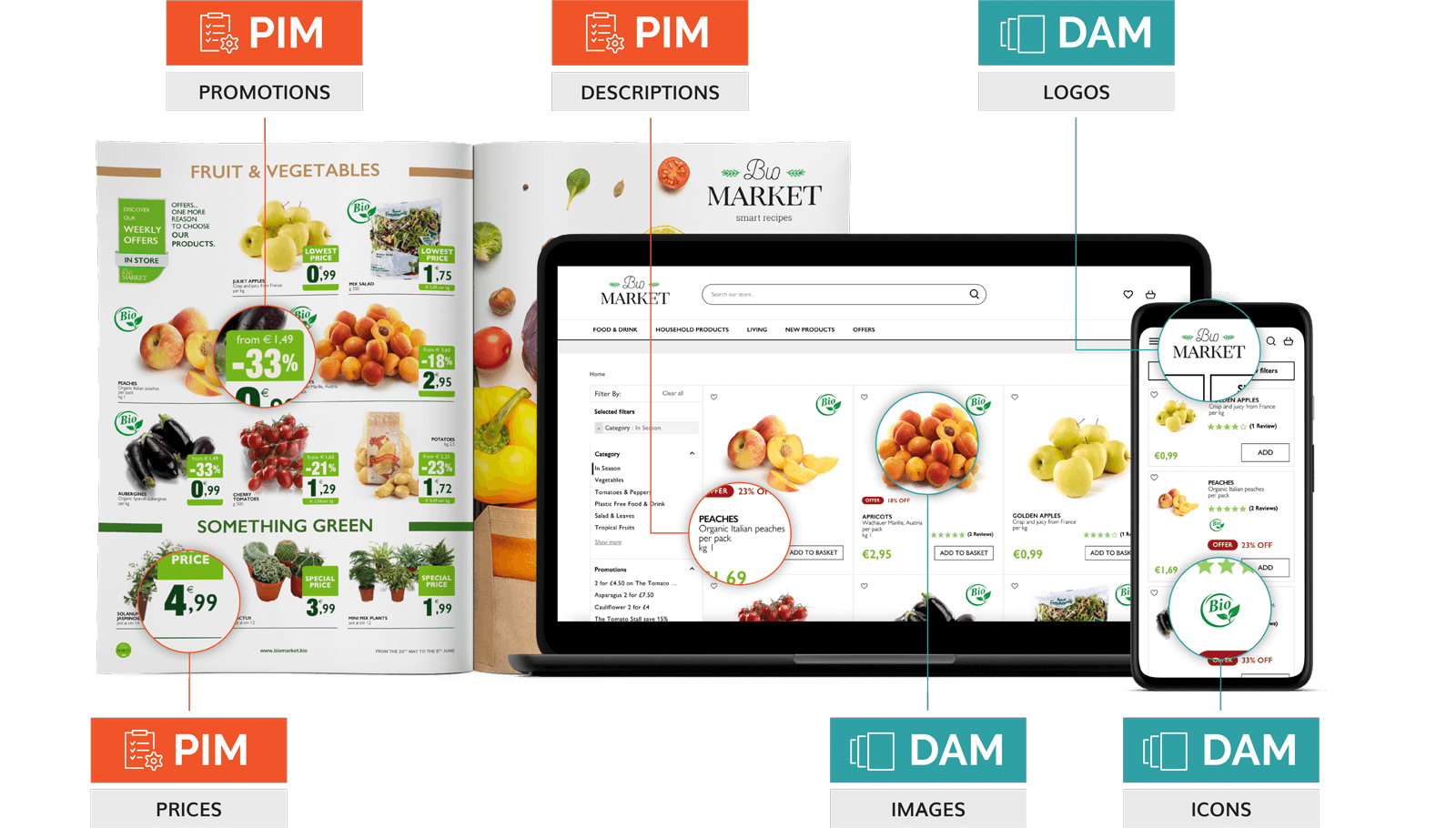 Read more about PIM and DAM:
Discover how the retailer power couple can help you work smarter.
The approval process
Once your catalog artwork is compiled, your stakeholders need to check it, make any corrections, and finally sign it off to print.
This can be an arduous process that involves: manually creating a PDF proof; sharing it with stakeholders via email or FTP; receiving and amalgamating feedback in a variety of formats; making the amends… and then doing it all again with version two.
There are a few ways this process can be streamlined. Take WoodWing Studio for example. Studio includes features such as:
The ability to share a PDF proof within the system
The ability for stakeholders to mark up feedback within the system and see what others have changed
Version history to track and compare changes
Audit trail to maintain a record of what was changed and why
Studio eradicates numerous time-consuming tasks like transferring proofs and allows for easily synchronized feedback.
The benefits of automating catalog production
We've already touched on many of the benefits of automating catalog production. Here's a quick refresher.
Automating catalog production means:
Faster and more efficient processes, saving time and money
Automatic information updates that remove the risk of errors and discrepancies
Lower resource requirements, so you can do more with less
Streamlined systems, reduction in complexity and associated costs
If you're looking for efficiencies in your marketing processes, automating catalog production has the potential to deliver some great efficiency gains.
Not only that but the software discussed above has applications beyond catalog automation. Integrating software like PIM and DAM can also form the foundation for more effective processes for digital channels as well.
From catalog automation to digital transformation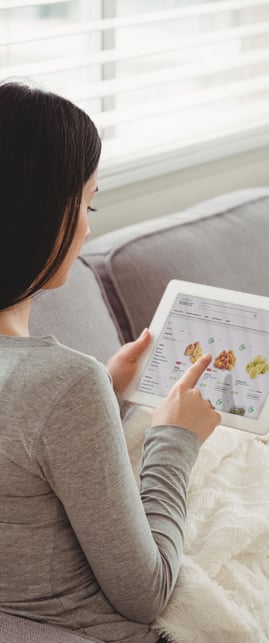 Supermarket catalog production doesn't exist in a vacuum. Catalogs are usually just one element of a multichannel promotional mix. Retailers might also include digital channels (an e-commerce site, app, social media profiles), other in-store materials (POS, digital displays), advertising, and more.
So while it might be beneficial, in the short term, to implement a software solution focused just on automating catalog production, it's unlikely to deliver truly transformative efficiencies.
A better way to approach the challenges of multichannel marketing is to look at your activities holistically. Not thinking about ways to improve a single deliverable, but reviewing and improving your systems to streamline every deliverable.
At WoodWing, we call this process 'content orchestration'. It's about setting up processes and systems for channel-neutral content production. That just means preparing content once, so it can be easily used in many different places.
After all - whether you're producing materials for print, online, in-store, or in-app - the underlying information and images remain the same. And yet many businesses separate them into channel-specific workflows, meaning information is duplicated and needs updating in multiple places. This is inefficient and increases the staff required to manage processes.
Content orchestration combines various software solutions to create a single source of truth for all product information and assets. Whilst the channel-neutral workflow means that images and copy can be easily prepared, checked, and distributed to any channel - whether that's print, website, or app.
This means:
Information and assets are consistent, wherever they appear
One change to data can update all digital channels immediately
Production time is greatly reduced
Fewer staff can maintain more channels
Summary
In summary, there are lots of aspects of supermarket catalog production that can be automated. And many different ways to achieve that goal - from dedicated catalog automation software to more bespoke solutions integrating different products.
Catalog automation software can deliver quick efficiency gains in a single area of your marketing activity, whilst a bespoke stack can be used to transform your marketing processes more widely.
The right choice for you will depend on your plans for the future, appetite for digital transformation, and existing software ecosystem. Whichever you choose, software has the potential to make supermarket catalog production quicker, easier and more cost-effective.