What is Digital Asset Management for universities?
Digital Asset Management is the term used to describe the methodical management of digital files, also known as 'assets'. Digital assets include things like images, video, audio, artwork, logos, text documents, PDFs, and more.
In a university context, the list of digital assets is almost endless. For example:
Video shot by your marketing department
Photoshoots commissioned by your press office
Logos managed by your brand team
Maps produced by your estates department
Learning materials created by academic schools
Artwork created by the student recruitment team
Congregation invites issued by the student progress team
Magazine templates created by the alumni office
In our digital age, we're creating and using more digital assets than ever before. But this creates a challenge.
How can we make sure digital assets are stored safely, easy to retrieve, and appropriately protected? How do we make sure people can get to the digital assets they need, without wasting time searching servers or email trails? And how do we make sure they're using the correct versions?
This is where Digital Asset Management steps in and saves the day. DAM systems solve all of these problems with such a simple solution that you'll kick yourself for not implementing one sooner.
What is a DAM system?
Put simply, a DAM system is a single source of truth for all of your digital assets. It comprises:
a powerful database that stores all of your digital assets and related data
an intuitive user dashboard that lets people find the assets they need
sophisticated permission controls to restrict and allow access to different assets
A DAM provides somewhere that all of your stakeholders – internal and external – can:
easily access the assets they have permission to use
quickly download them in the correct format for their needs
effortlessly share assets with collaborators and contributors
see any relevant information about permissions or copyright
Why do universities need DAM?
It isn't just universities that need DAM. Any large organization needs a secure and effective way to manage its growing library of digital assets. Here's why your institution should have DAM on its agenda.
Complexity and volume
Universities are typically large and complex institutions. They have a lot of staff and a lot of stakeholders. That adds up to a whole lot of digital assets.
In fact, virtually every touchpoint with your institution involves a digital asset – from print products like brochures and prospectuses, to digital media like your website, display screens on campus, or online learning materials.
This means there's a high volume of digital assets to manage and a high number of stakeholders that need access. A classic use case for Digital Asset Management.
Without digital asset management, assets can be stored erratically across numerous file systems. This means the people who need assets - like images, artwork, logos, video - can't easily access them. It might even mean assets being duplicated by different teams.
Poor file management is the enemy of efficiency. It might seem minor. A few minutes here, a few minutes there. But over a year – multiplied by all of your many digital asset users – it adds up to days of lost productivity.
Does anybody know where I can get "layout x"?
Which photographer needs to be credited for "image x"?
Who knows where the final version of "X" is saved?
Do you still have that email with the Scope of Work (SOW) attached?
Can you please resend me "file x" - I can't find it on my computer?
Where is the brief saved on the server?
I can't find "X" image anywhere.
DAM provides a centralized single source of truth for all digital assets. Users can search for assets using keywords or browse through a logical structure to find the assets they need. This means the right asset is as little as three clicks away, for anybody in your institution.
In turn, this means:
work is delivered faster and fewer projects are delayed
outputs are consistently on-brand
support requests fielded by your marketing team are reduced

Brand protection
Universities operate in a highly competitive environment. They live or die by the strength of their brand. So, providing people with easy access to approved, high-quality digital assets is essential.
In any large, complex – sometimes geographically dispersed – organization, there's a risk to brand. Due to a lack of brand awareness or not knowing where to find help, colleagues can publish materials that damage your brand. For example, using out-of-date logos or brand colors, or including assets that you don't have permission to use.
Any university brand manager will understand the heartbreak of discovering someone has 'made their own brochure' using photos and a pixelated logo they found online.
Having a DAM solution gives you greater control over your brand by providing self-service access to high-quality, pre-approved brand assets. For example, brand guidelines, logos for a range of uses, bespoke fonts, on-brand images, even artwork templates.
Data protection
Universities also hold a lot of information that needs to be protected against misuse – whether that's accidental, intentional, or malicious. For example, photos of students, permission forms containing personal data, and commercially sensitive information about research.
No organization can afford to be complacent about data security. Cybercrime is increasing and governing bodies rightly apply high penalties for data breaches.
A DAM provides security as standard. No more emailing files or using external FTP sites to transfer them. Users can share assets within the secure DAM system. Features like shared collections and sharing links mean you can easily point colleagues to the correct files and they can download them directly from your DAM.
Furthermore, sophisticated access permissions mean that you can control who can access files – and what they can do with them – right down to a granular level. This means reduced exposure to legal risk as a result of misused assets.
Remote access
Universities have been massively impacted by lockdown measures around the world. Many have been unable to deliver face-to-face teaching and - as a result - have implemented years of digital transformation in a matter of months.
As the world cautiously reopens, like many other institutions, universities are reviewing their working practices. Some element of remote working is likely to continue in the medium-term but possibly permanently.
In this environment, centralized digital asset management is essential. A DAM provides 24/7 online access to assets, wherever users are in the world. This removes any risk associated with colleagues storing digital assets locally - for example, on their PC - and making them inaccessible to others.
It also opens up greater opportunities to achieve better value in the supply chain. By providing faster, safer ways of working, DAM opens up a world of opportunity for collaboration with remote suppliers.
University use cases for a DAM system
We've already touched on a handful of use cases above. Let's dig a little deeper into just a few of them.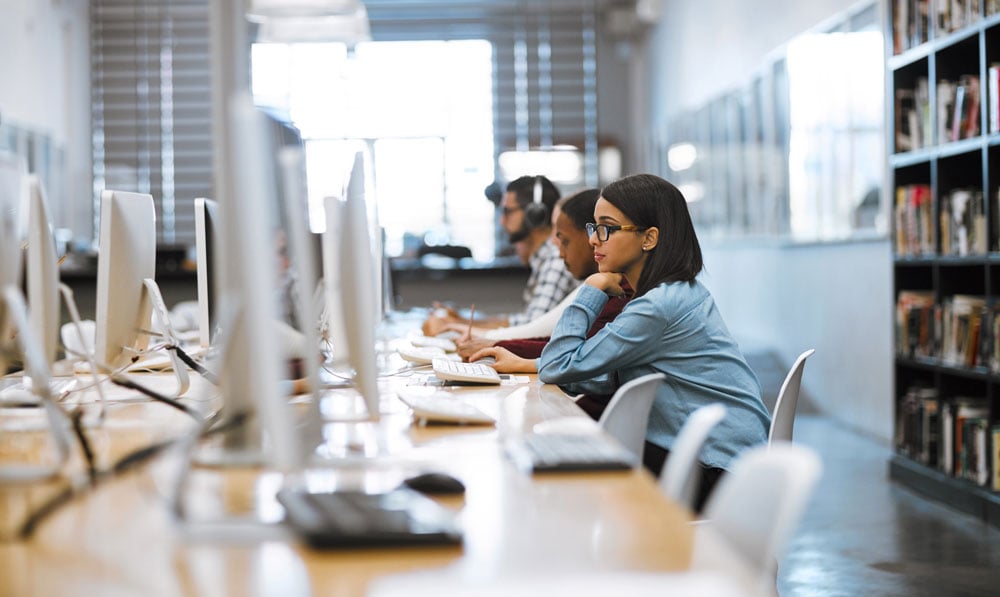 University student recruitment teams
Student recruitment staff are key drivers of financial stability and commercial viability. They showcase what your university has to offer, attracting applications from qualified candidates.
They have to produce engaging marketing collateral over a burgeoning range of channels. From printed materials like traditional prospectuses and brochures used at Open Days, to web content, digital campaigns, and social media. Their audiences can include young people, mature students, parents, educators, and employers. It can amount to hundreds of projects, using thousands of assets, each year.
Given the value of their work - and the volume they have to get through - efficiency is essential. That means being able to access the right digital assets without delay. But without a DAM system, digital assets might be stored on a file server, located in SharePoint, attached to an email trail, or even stored on someone's desktop. That can lead to frustration, delays, or sub-par publications.
University estate departments
Your estates department might not seem the most obvious producer and user of digital assets. But you'd be surprised. Whether it's maps to help visitors navigate around campus, or giant artwork to cover scaffolding during building work, your estates team may actually publish a lot of collateral.
This can be highly visible material that a lot of people get to see. But it isn't their everyday work. So there's a potential risk that the wrong brand assets or visual identity get used.
Having a centralized store of assets means that they can deploy their duties confidently, knowing they've used approved, up-to-date assets that match the overall institutional brand.
University alumni office
Securing financial support from alumni is an essential part of any university fundraising strategy. That means providing a great service to former students, helping them feel connected and part of a valuable community. Alumni offices often produce magazines for their 1000s of members, as well as e-newsletters and events.
This needs lots of digital assets, like up-to-date photos and videos of the university campus, and success stories from your researchers and students. Usually small but busy teams, your alumni staff don't have the time or resources to commission these digital assets themselves. So they need ready access to existing content.
Academic departments
Academic departments are the beating heart of any university. They're where students prepare for exciting new careers, researchers make groundbreaking discoveries, and commercial partnerships deliver innovation for business.
They're busy places. And although they usually have some admin support, they don't necessarily have dedicated marketing staff. This can be a problem as academic departments have complex communication needs. Conference collateral, learning materials, B2B promotional materials, departmental website, publications…
These all need up-to-date digital assets to keep them looking professional and on-brand. And a DAM is the way to deliver them.
External agencies
Most institutions outsource at least some of the content production – whether that's to external design agencies, photographers, writers, proofreaders, or content producers. This produces a lot of traffic between the institution and its partners – either by email or FTP site.
This isn't ideal. Firstly, it wastes a lot of time – locating, uploading, transferring, downloading, links expiring, attachments getting blocked). And secondly, it introduces a data security risk as files could be intercepted. A DAM lets you manage this with a few clicks, all within the same secure system.
You don't need a doctorate to understand the benefits of DAM to universities. More brand control, higher quality outputs, streamlined processes and - increasingly essential - secure remote access. If you're impressed by DAM's potential to transform your university processes, find out more in our next article: How to choose the best DAM for your university